Building a Resilient Fulfillment Network to Deliver on Time Every Time
The eCommerce industry is still running at a peak. Even the traditionally slow month of January saw gains across all sectors, with overall online sales up 62.1% compared to last year.
And this has significant consequences for your fulfillment network.
The continual growth in online spending, coupled with growing expectations for fast and free delivery, places significant pressure on fulfillment teams, shipping carriers, and eCommerce businesses. And many are struggling to keep up.
Delivering on time, every time is a competitive advantage. It's also an enormous challenge.
In this article, we'll share some advice on building a resilient fulfillment network for your eCommerce business, to delight your buyers every time.
The State of Fulfillment in 2021
2021 is an interesting year. Along with the speed-growing expectations, the industry has also faced massive delays.
Shipping carriers are still feeling the effects of last year's pandemic while grappling with the usual holiday surge in parcels and letters. According to ShipMatrix's data, more than a million packages were delayed by over 30 days at the end of 2020.
And the problem continues:
USPS

users are experiencing delays of up to one month.

FedEx

has suspended its money-back guarantee for delivery times.

UPS

has suspended its Service Guarantee for delivery times.
These delays affect how quickly you receive inbound stock and how fast you can deliver outgoing orders — creating unacceptable delays for your customers.
And then there's shipping fraud and theft. Porch piracy is on the rise again, with 43% of Americans being a victim of delivery theft in 2020. Even if you manage to dispatch an order on time, there's no guarantee that the customer will receive it on time, if at all.
What can you do about it? Well, the answer lies in a resilient fulfillment network.
What Does a Resilient Fulfillment Network Look Like?
A resilient fulfillment network helps you overcome logistics challenges to deliver orders on time, every time.
It's optimizing every aspect of your fulfillment operation to:
Minimize the risk of delays to inbound and outbound shipments.
Increase efficiencies to allow more time to overcome delays.
Have a variety of back-up options to fall upon during emergencies.
For example, last year, Amazon FBA halted inbound shipments and delayed deliveries of non-essential items. For many Amazon sellers, this meant they couldn't restock new products or deliver existing products — it froze their business.
However, resilient Amazon sellers could simply divert stock to and fulfill orders from their alternative fulfillment partner. Their customers experience little to no delays, which meant they could continue selling on Amazon and other sales channels.
The essence of a resilient fulfillment network is layers; layering your fulfillment options so you're not solely reliant on FBA or Deliverr for delivering orders. Instead, you use a combination like FBA, Deliverr, and Walmart Fulfillment Services, so that when one service suffers delays, you always have a backup. One Deliverr merchant saved $660,000 in sales by turning on FBM with Deliverr when their FBA listings weren't up to par.
Bonus: When layering your fulfillment network with a combination of marketplace fulfillment options and third-party fulfillment services, you can qualify for fast shipping tags too!
The Importance of Fast, Reliable Deliveries
Before we jump into how to build a resilient fulfillment network, let's quickly talk about the importance of fast, reliable deliveries.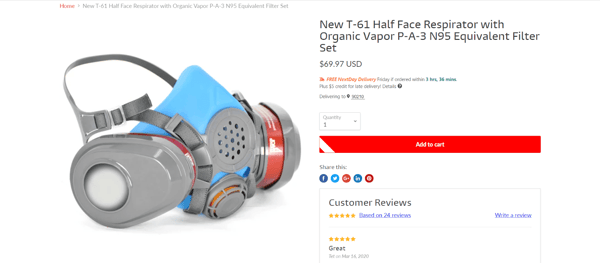 Fast Shipping
Fast shipping speeds of next-day and 2-day delivery are fundamental to your store's future success, regardless of where you sell. Here's why.
Online Marketplaces
Fast shipping speeds qualify you for fast shipping programs, including eBay Fast 'N Free and Walmart TwoDay.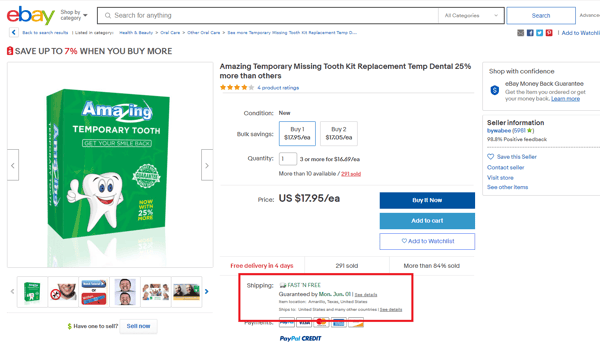 These increase marketplace sales through:
Visibility: Fast shipping tags added to your listings.
eCommerce SEO: Higher ranking in the organic search results.
Buy box: Better chances of

winning the buy box

on the product page.
Reach and search prominence: Inclusion in fast shipping-filtered search results.
D2C Shopify or BigCommerce stores
Direct-to-consumer stores are the holy grail of eCommerce, with a direct line to your customers, ownership of the channel, and no marketplace fees. However, if you want your store to keep up with big marketplaces, you need to offer the same fast delivery experience.
Speedy deliveries drive direct sales on your eCommerce platform through:
SEO: Optimization for fast shipping-related longtail keywords (e.g., fast delivery makeup).
Ads: Dynamic, fast shipping tags that make your

Google Shopping ads

stand out.
Trust: A signal that you value the customer experience.
Facebook and Instagram Shops
Finally, fast shipping can be your differentiator on social media. Add fast shipping tags to your Facebook ads for lower CPA and higher ROI.
2-day deliveries also boost your offering on Facebook and Instagram shops, allowing you to offer customers:
Seamless shopping: Fast delivery speeds that extend the seamless experience of social media shopping.
Relevant ads: Dynamic shipping tags that calculate shipping speeds based on a customer's location.
Value: Providing free shipping (offset by the ROI and

lower CPA

).
Reliable Shipping
Reliable delivery is just as important as speed. Shipping orders on time is vital, especially when advertising fast shipping speeds.
Customer acquisition: Reliable shipping generates positive

social proof

, which attracts and converts new customers.
Customer experience: On-time deliveries ensure you provide a

5-star customer experience

pre-and post-purchase.

Customer retention

: The delivery experience directly affects whether a customer shops with you again.
Business Profit: Late deliveries cost time, money, and reputation — your money is better spent perfecting your deliveries the first time.
Together, fast, reliable deliveries set your business apart from your competition - including marketplace competition.
How to Build a Resilient Fulfillment Network
Building a resilient fulfillment network is a complex ordeal, but there are a few key factors you should pay special attention to. These are; your inventory efficiency and placement, your fulfillment process, and your partners.
1. Optimize Inventory Efficiency
Inventory efficiency is the ability to balance consumer demand against fulfillment overheads, so you always have enough stock to fulfill orders without overfilling your warehouses. You might be familiar with your current inventory efficiency ratio.
Inventory efficiency is important for fulfillment resilience because if an inbound shipment is delayed, you'll still have enough inventory to meet orders, and if an outgoing delivery goes missing, you have enough stock to send a replacement.
There are three key tricks to optimizing your inventory efficiency:
Diversify your supply chain

: Work with multiple suppliers from different countries, states, or cities so that a regional impact in one area can be overcome by ordering stock from another.

Forecast demand

: Employ inventory management software to accurately forecast future demand and order enough stock in time to meet it (without an excess of stock landing in the end of season sale).
Stop "just-in-time" sourcing: Order replenishment stock before when you need it, so you're never running dry and selling out or

issuing backorders

.
2. Keep Your Inventory Close to Demand
The closer your inventory is to your end customers, the less time it takes to ship orders. This gives you a greater on-time delivery rate and provides a little breathing space to overcome any fulfillment issues without impacting the delivery date.
The only way to serve buyers nationwide and ensure items are as close as possible to demand is to have a strategy network of warehouses. These can be your own, rented storage space, or the network of an outsourced fulfillment partner.
For example, Deliverr uses intelligent distribution software that tells sellers exactly where to send SKUs and how much stock to send, based on order history. That means if 80% of your sales come from New York, and 20% come from California, we'll place most of your items in warehouses on the East Coast.
3. Streamline fulfillment processes
The more efficient your internal fulfillment processes, the less margin there is for errors, and the more time there is for resolving issues.
There are many ways to streamline your fulfillment processes and reduce dispatch times. The most common being:
Automation: Automating tasks where possible using order processing tools and

inventory software

.
Warehouse Audit: Auditing your warehouse space to identify efficiency leaks (e.g., warehouse layout).
Using location data: Using real-time inventory positioning tools to calculate shipping speeds based on a customer's location, so your advertised delivery speeds are achievable.
4. Centralize Your Fulfillment
If you're a multi-channel seller, you might run a combination of channel-specific fulfillment methods. For example, using FBA, WFS, and Shopify Fulfillment Network.
When life and business are running smoothly, this is great for delivering orders quickly directly through your marketplace fulfillment program. However, if your demand forecasting was off, or your sales suddenly spike on one platform, things can get complicated. You'll need to pull out inventory from one network to put into another, which costs time and money — in the meantime, your rankings and seller reputation could be suffering.
When selling on a variety of sales channels, you should have a centralized fulfillment option that can handle orders from any channel when needed — even if you choose to continue running channel-specific fulfillment at the same time.
The three main options for fulfillment, which you should consider layering to build redundancy and protect you from going out of stock, are:
1) In-house Fulfillment
You can run a small in-house fulfillment operation for direct orders that can handle marketplace orders when needed. This is the best way to keep costs in-house. However, you'll be at the mercy of your capacity (and your shipping carriers) during spikes, making delays more likely and less avoidable.
2) Multi-channel Fulfillment Partner
You can use a multi-channel fulfillment partner like Deliverr to disperse, store, pick, pack, ship, and qualify you for fast shipping programs. We use a network of warehouses to place SKUs closer to customers, and have a variety of shipping carriers in the event of any disruption.
Marketplace Options
Finally, you can use marketplace fulfillment services such as FBA, WFS, and Wish Fulfillment. These come with the benefit of speed, fast shipping qualification, and low costs, but their multi-channel options are expensive if they're available at all.
To start with, use a combination of the above to determine the best option for your business, sales channels, and customers. When the time is right, you can consolidate your fulfillment network to one or two methods.
Tip: You can use a multi-channel fulfillment partner for D2C orders where you need to ship quickly and save in-house fulfillment for wholesale orders where speed is less essential. Read more about this at D2C vs Wholesale: Consumer expectations for delivery speed means you need to make a choice.
How to Handle Delayed Deliveries
A resilient fulfillment network doesn't just deliver orders on time. It can also adapt when your deliveries are late.
1. Rescue The Buyer Experience
Your buyer experience is critical to upselling and retaining a buyer for better customer lifetime value. If a delivery is late, you need to rescue the buyer experience by continuing to provide outstanding customer care.
Inform your customer about the delay, and an updated arrival estimate.
Refund the original shipping cost, regardless of what service they chose.
Issue store credit as an apology and a way to encourage a repeat purchase.
2. Aim for Quick Resolutions
You need to aim for a resolution as quickly as possible, or risk them asking for a refund and canceling the order altogether. Once you lose a customer based on poor shipping experience, you probably won't get them back.
Take preemptive measures by providing updated tracking information, or shipping a replacement product on expedited delivery. The resolution will depend on the situation.
For example, a kitchen blender delayed by one day probably just needs an updated tracking number and apology. Whereas a delayed wedding dress for a vacation wedding might need a same-day courier. Read the situation and respond accordingly.
3. Enhance Your Fulfillment Network Resilience
Finally, delve into the details about what happened and how to stop it from happening again. Investigate, implement actions, and feedback these back to the customer. And don't forget to thank them for helping you become a better business.
Over a third of customers won't return to a retailer following a bad delivery experience. A delayed delivery doesn't have to be a bad experience when handled correctly.
Conclusion
Fast, reliable fulfillment is fundamental to retaining customers and generating positive reviews that attract new shoppers. But delivering on time, every time is becoming increasingly challenging with the current state of fulfillment delays and the ever-growing demand for faster delivery. Resolve this by bulking up your fulfillment network with backup options, smart inventory placement, and an expansive warehouse network.
About the Author
This is a guest post from Rachel Go, senior content marketing manager at Deliverr. Deliverr provides fast and affordable fulfillment for your Shopify, Walmart, Amazon, eBay, Wish, and BigCommerce stores, helping to boost sales through programs like 2-day delivery for Shopify, Walmart 2-day delivery, eBay Fast 'N Free, and Wish 2-day.
Deliverr's FBA-like multi-channel fulfillment comes with clear pricing, easy onboarding and a hassle-free experience so you can focus on growing your eCommerce business.
Are you interested in being a guest on the BlueTuskr E-commerce Blog? Click here for more information.