Selling Products on Amazon vs. eBay: Which One Is Better? - Updated 2023
Updated April 19, 2023
Where Buyers are Going: Website Traffic
Amazon consistently achieved more than a billion web visits each month in 2022, while the eBay marketplace is yet to cross the 1-billion mark. That metric makes selling on Amazon more attractive than running an eBay business. However, website metrics are one piece of the puzzle.
You'll need information on more specific areas, like the number of searches for a particular product niche. That boils down to running this check based on what products you have. If more Amazon customers search for it than on eBay, you know where to pitch your tent.
eBay Fees
Both eBay and Amazon have charges that apply to online sellers. Some depend on your subscription model and extra features, while others are general. Here are the typical eBay charges you'll pay:
Insertion fees: Selling online on eBay includes 250 free insertion fee listings every new month. Once you exceed that number, any other product listing attracts insertion fees. Also, you may receive more charges if you have an eBay store subscription with the website.
Final value fees: This online platform will take a percentage of what you receive for your product. You can call it the final sale price. The rate includes shipping and product handling but not taxes.
eBay charges different percentages for different products. Clothing, jewelry, and watches take the most, at 15%. Also, the payment processing fees are included in the final value fees.
Listing upgrade: eBay's listing upgrades cost extra. These include using a bold font or subtitle and setting a minimum price for your product. While they cost more than standard listings, they help products stand out.
You can use the eBay fee calculator to know how much extra is required to add these upgrades. Keeping the profit margin in mind, you'll know if the additional fees are worth it.
The insertion fees are something to look out for, but eBay has lower charges than Amazon. Hence, consider it if you want lower selling fees for your eCommerce business.

Amazon fees
Amazon's fee structure differs depending on the product and the fulfillment option. These are the charges you will incur if you opt for FBM:
Amazon referral fee:

Selling on Amazon attracts a referral charge for every product sold. The eCommerce site takes a percentage of the total sales price. However, this percentage varies by product.
Fixed closing fee:

You'll only pay this charge if you have an individual account. Merchants selling on Amazon with professional accounts are spared this fee. Notwithstanding, the cost comes in at $0.99 for every item sold.
New sellers and returning ones that opt for FBA have a separate structure. Their selling fees include the following:
Fulfillment fees:

Ultimately, someone has to pay for that smooth buying experience. Amazon charges its sellers based on the product's size and weight.
Monthly storage fees:

The space for your products at the fulfillment centers come at a cost. Amazon calculates this charge based on your product's average volume.
The above charges only apply to the Amazon seller that opts for these packages. Beyond that, you'll still have to pay the general fees for selling online on the platform. They include the following:
Per-item or subscription fees:

individual and professional accounts have different charges. The former pays a fee for every product sold, while the latter pays a monthly subscription. Most sellers with entry-level products opt for an individual account.
Refund fees:

Amazon has charges for processing a reimbursement. This fee only applies when Amazon customers initiate it. The cost can be either $5 or 20% of the refund, depending on which one is cheaper.



The Amazon Prime Subscription Advantage
This subscription model brings several benefits to Amazon customers. It is one of the primary reasons the eCommerce platform has more shoppers than eBay. While it is customer-focused, you can get improved eCommerce sales from it.
With over 200 million Amazon Prime members worldwide, your eCommerce business can tap into a ready-made customer base. These are buyers that shop regularly. Hence, positioning yourself as an Amazon seller with extra subscriptions could be beneficial in the long run.
It also spares you the bulk of the work needed to attract buyers to the platform. That will be a different story if you run your own website.

Products on Sale
Fees and perception are essential when picking a platform for your business. However, hitting your desired eCommerce sales involves taking your products to the right market. We'll review the primary products for those selling on eBay vs. those selling on Amazon.
The eBay marketplace is ideal for those who want an eCommerce space to conduct their business. On the other hand, Amazon has evolved into a retailer with support for third-party sellers.
eBay is more liberal with the products sold on its platform, especially with the quality. You can sell brand-new goods or fairly used products. There is no restriction on this end, except for contraband.
This model works well for eBay's revenue, as people prefer it when shopping for used products. You can also use the auction model to attract buyers for competitive prices.
Amazon allows the sale of used products, but that is not its strength. It excels in second-hand book sales, drawing on its years as an online bookstore.
While brand-new items occupy 80% of eBay's inventory, buyers looking for new products tend to go to Amazon. The latter has a better reputation and business model, resulting in more sales. eBay's annual sales revenue for 2022 was $9.795 billion, while Amazon generated over $514 billion from net sales.
Product Restrictions
Amazon fees are not the only thing on the high side. Product restrictions are also more prevalent on the platform than on eBay.
Amazon requires multiple approvals to list your products on its platform to fight fraud. This depends on the product category, but it still takes away the simplicity of putting your products up for sale. Here is where selling on eBay picks up an advantage.
For some products, you must provide your suppliers' information before Amazon lists your product. Several categories are also restricted, and you need UPC barcodes for an item listing.
eBay offers more leniency in product listings but still restricts specific categories. These include adult products, alcohol, drugs, animals and wildlife, credit cards, firearms, mailing lists, prohibited electronic equipment, etc.
Still, getting your products listed is easier on eBay than on Amazon. You must decide which is more profitable for your business—selling on eBay or Amazon.

Return Policy: Amazon vs. eBay Comparison
The ease of shopping and quick deliveries add to the experience. However, consider the return policy on both eCommerce platforms before you begin selling on them. Customers always gravitate toward sites that offer easy returns.
Return policy is one area where selling on Amazon is more attractive than selling on eBay. That is because buyers have more confidence in Amazon's A-Z guarantee, which promises a full refund. It applies to dissatisfied purchases or delivery times.
eBay's return policy is not as straightforward as Amazon's. For starters, selling on eBay allows sellers to tick the "No returns" box. Buyers cannot request a refund if they get a substandard product. You can imagine the nightmare that would bring for international sales.
Which platform do you think buyers will trust more? eBay or Amazon? Buyers will opt for the one that guarantees a refund if the product arrives damaged.

International Sales
eBay and Amazon support international sales, but eBay leads in this aspect. It is available in over 100 countries, with 23 global sites. That makes it the better choice if you want to start selling internationally.
Amazon has not taken a back seat to its international expansion. The eCommerce platform runs 14 marketplaces globally, including those in Asia, Europe, Australia, and North America. However, you must open a new merchant account for each marketplace you want to sell in.
eBay has the advantage here, requiring only one eBay account for its international sites. You only need to register once to open your international sales channels. Even so, Amazon is fast catching up with its consolidation strategy.
The eCommerce platform is merging its international marketplaces to make global sales easier. An example is its unified European marketplace, which requires only one account to sell across Europe.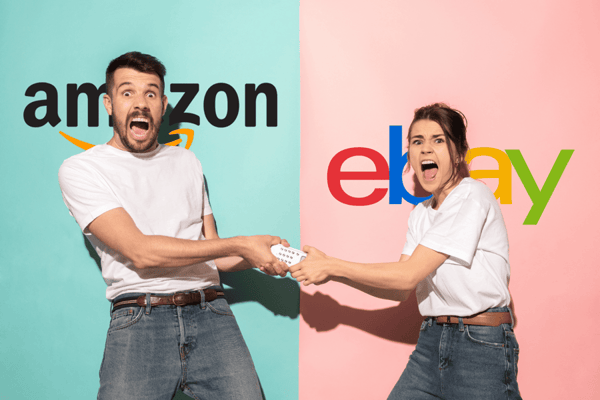 Pros and Cons of Amazon
Let's wrap things up by reviewing the pros and cons of selling on Amazon. Is the eCommerce platform the right one for you? It's not about looking at how many sellers put their products on it. Instead, look at the benefits it brings to your business.
With that in mind, here are the pros and cons of selling products on Amazon.
Pros
Customer base: The number of shoppers on Amazon outweighs those on eBay. More people prefer the search results from the platform than other search engines. Of course, the billions of dollars it generated in revenue in 2022 proves that.
You will immediately tap into this customer base when you opt for Amazon. That gives you leverage to pull in sales by showing up in search results or through other marketing techniques.
Supply chain management: Amazon fulfillment centers provide storage for your products. Hence, you don't need to worry about setting up your own supply chain network. The company will handle the storage, packaging, and distribution.
Cons
High fees: Amazon's fees might start small but quickly compound as you add more features. They are comparably higher than what you would spend on eBay.
Product restrictions: The rules on Amazon make it difficult to list just about any product. You must answer a series of questions before receiving approval

.
Pros and Cons of eBay
eBay tops the list for those who want to transfer their yard sales online. However, it is not without its faults. Here are its pros and cons:
Pros
Fewer restrictions on product listings: eBay has restricted products. However, setting up an eBay account, listing your products, and selling is easier. The rules are more relaxed than they are on Amazon.
International reach: The company has a better global reach than Amazon. It is present in over 100 countries, making international shipping easier.
Cons
Less reliability: eBay's reputation isn't exactly spotless. It is a less reliable eCommerce platform than Amazon, thanks to poor customer experiences.
Poor return policy: Being able to return a defective product is an assurance for buyers to patronize you. eBay's return policy is not as solid as Amazon's. Even so, some sellers can rule out product returns.