Selling Products on Amazon vs. eBay: Which One Is Better?
E-commerce sellers are often spoiled with choice. There is an ever-increasing number of viable platforms, each with its own benefits and drawbacks. As a result, deciding where to set up shop can be incredibly difficult.
When it comes to the selling on Amazon vs. eBay debate, it's particularly challenging. Both options have a lot going for them, and a few key things working against them. Often, you need to take a deep dive into what each one brings to the table, so that's what we're going to do today.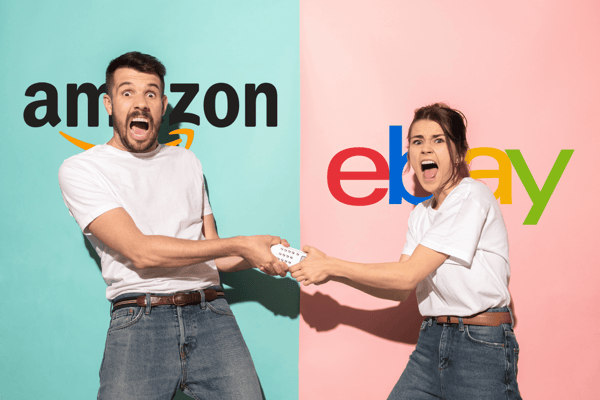 Selling on Amazon vs. eBay: A Point-by-Point Comparison
Often, the easiest way to determine which site wins in the selling on Amazon vs. eBay debate is to go with a point-by-point comparison. That way, you can see how the two options stack up in each category.
This approach also allows you to give individual points additional weight. Depending on your strategy, certain considerations may mean more to you than others. By looking at Amazon vs. eBay this way, you can focus on the points that you give the highest priority.
If you're ready to figure out if selling on Amazon or eBay is the best option for you, here are some many points to consider.
Legacy and Reputation
Both Amazon and eBay have been around since the 1990s, with Amazon launching on July 16, 1995, and the original version of eBay – AuctionWeb – going live in September 1995. That means, when it comes to legacy, the two companies are very well matched.
Plus, Amazon and eBay both qualify as household names. You'd be hard-pressed to find a consumer that isn't at least aware of these retailers, and most have likely had at least one experience on the platforms.
However, when it comes to consumer trust, there is some deviation. Amazon has a stellar reputation when it comes to customer service, and 89 percent of buyers say they are more likely to shop there than other e-commerce sites.
eBay's reputation can be a bit variable. It isn't necessarily because of the site itself. Instead, people project their experiences with individual sellers onto the company, even though eBay is little more than a host for the transaction. This is especially true of the customer reached out for help from the company, only to run into an issue that may or may not have been in eBay's control. As a result, there can be some distrust, but it usually isn't so dire that sellers shouldn't consider the platform.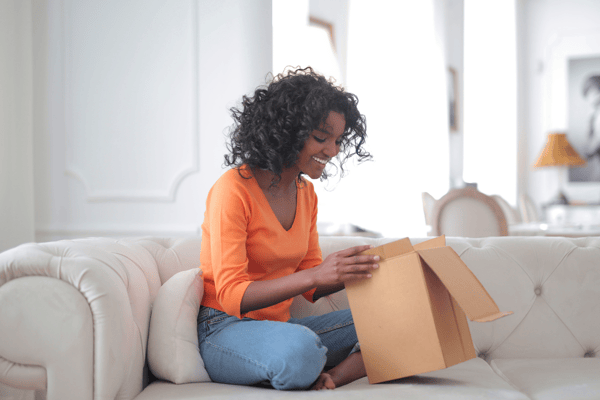 Convenience for Customers
When it comes to convenience for shoppers, you have to examine a variety of facets of the experience. Everything from ordering, shipping, returns, and customer service play a role.
Generally, the ordering process on both platforms is simple enough. There are one-click options available on eBay and Amazon, and the standard method is easy enough to manage on each site. As a result, this is largely a wash.
However, you can't ignore the power of Amazon Prime. With 112 million U.S. members, each spending an average of $1,400 a year, it's a segment that's hard to ignore. While Prime members don't necessarily eschew other platforms when they shop, there's a strong chance they'll favor Amazon because of the convenience Prime offers. After all, free two-day shipping is hard to ignore.
If you are part of the Fulfillment by Amazon (FBA) program, returns are also easy for shoppers. The company's A-Z Guarantee provides them with a lot of peace of mind.
Now, it's important to note that eBay Plus – a Prime-like service with free shipping options – is available; it's just not in the U.S. If you do business mainly or solely in participating countries, this may even things out a bit on the shipping front.
When it comes to returns and customer service, eBay just doesn't measure up. Partially, the site can struggle with a reputation created by less scrupulous sellers, like those who list items with the "No Returns" option set, only to send out subpar products.
Plus, eBay's rules for refunds and returns are fairly complex, making it difficult for buyers to know what to expect. This may cause some to shy away from eBay, or at least favor sites that may provide them with more support, should they need it.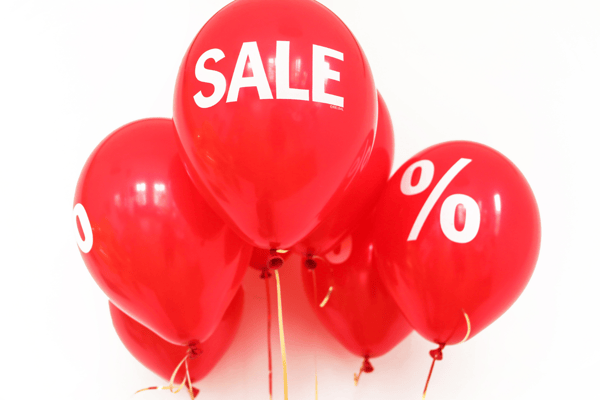 Deals, Promotions, and Advertising
While e-commerce sellers can certain use email marketing software, leverage social media, and boost listing SEO to drive sales, having access to platform-specific tools is beneficial. It allows you to direct more attention to your listings, ensuring people who are actively seeking out products like yours on that platform learn about your items.
With Amazon, you get a ton of options for promoting products. Along with the various Amazon Sponsored campaigns, there are also Amazon Lightning Deals. It's a pretty powerful selection of advertising programs, and they are all available to most Amazon sellers.
With eBay, there is a promoted listing option, but that's about it. It gives you the ability to boost visibility, similar to the Amazon sponsored product approach.
However, one interesting aspect of the program is that it isn't pay-per-click (PPC) like many of Amazon's options. Instead, not only does the customer have to click, but they also have to buy the product. You don't get charged until the purchase happens.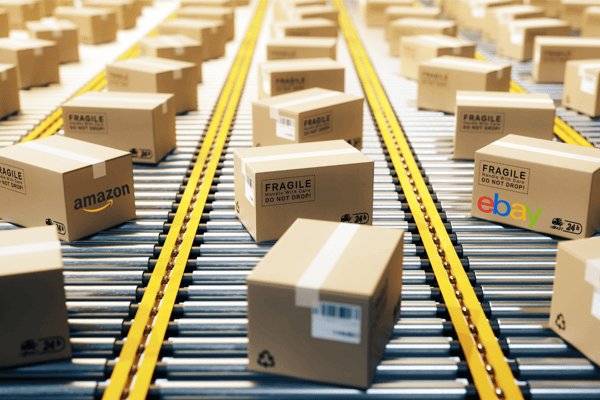 Fulfillment
If you decide to be an eBay seller, the entire process is essentially in your hands. You have to coordinate the packing and shipping of every order. There is no other option.
With Amazon, you get two choices. You can stick with the hands-on approach and go with Fulfillment by Merchant (FBM). It's essentially the same method as if you were selling on eBay.
However, you also have FBA if you go with Amazon. Here, you can have Amazon store your items in its warehouses, handle order packing, dealing with the shopping, and also take care of refunds and returns. It does cost more to go this route – and will get into that a bit in a moment – but it also offers you a ton of convenience, and is a major differentiator.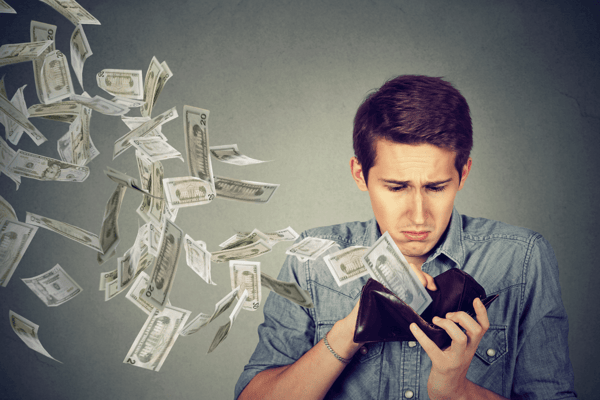 Seller Fees
When it comes to the Amazon vs. eBay debate, the fees you pay for selling your products is a critical factor. After all, fees reduce your profitability and, in the end, you're working as a seller to make money.
eBay's fee structure is relatively simple and generally comes in lower than Amazon's. There's an insertion fee for creating listings, though you can qualify for up to 200 zero insertion fee listings each month as a seller, and potentially more if you have an actual eBay store.
After the free ones, the insertion fee varies depending on the product categories you choose. However, the standard fee – which applies to most listings – is $0.35 per listing.
Once your product sells on eBay, you also have to deal with the final value fees. This is a percentage of the item's final sale price, including shipping and handling, but before tax. Generally, this comes in between 0 and 12 percent.
If you don't use eBay's managed payments seller program, you might also have PayPal fees to handle. There are also listing upgrade options that can lead to higher costs.
For Amazon, your fees vary depending on several factors. First, whether you have a Professional or Individual seller account matters. With a Professional account, you pay a $39.99 monthly fee, but get to avoid paying a fee for each item that sells. If you go the Individual account route, you pay $0.99 per item sold but don't have a monthly fee.
Professional accounts also get a few extra options. For example, it allows you to set your own shipping and handling price. With an Individual account, Amazon chooses that for you, and it may not cover your actual shipping and handling costs, leaving you to take care of the difference out of pocket (or out of your profit). In either case, you also have to deal with referral fees, which can be around 15 percent, depending on the category.
Additionally, whether you are an FBA or FBM seller is a bit factor in your costs. If you go the FBA route, you'll have a few fees that come along with that. The order fulfillment fees shift depending on a product's weight and size. There's also a variable monthly storage fee since Amazon is holding your inventory, as well as a long-term storage fee is your items aren't selling and have been at the warehouse for 6+ months.
FBM sellers avoid those fees because they are handling their own inventories and product shipping responsibilities.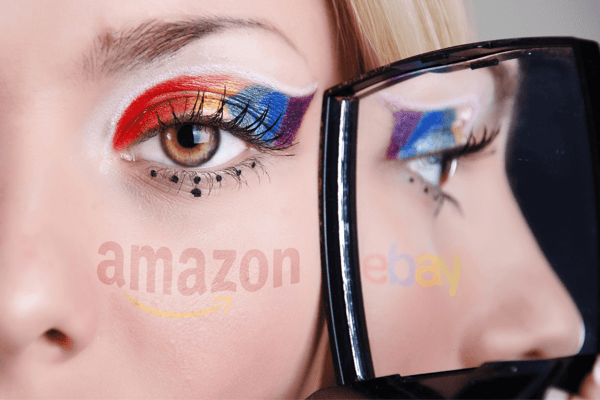 Perception
On Amazon, people shop for new items more often than not. And, while they may expect competitive pricing on all products (compared to other retailers), they aren't necessarily assuming they'll find deep discounts.
eBay is a bit different. The auction model impacts how people perceive the experience. Additionally, the prevalence of used items can influence their views on price. At times, consumers are also affected by overseas listings that look low at first glance. If they overlook the exorbitant shipping costs, they might think that the purchase price reflects the going rate for a particular item, altering how they view listings that actually have a realistic price.
Generally, buyers on eBay expect to pay less, and many only turn to the platform to find significant discounts. That may make it harder to get the price point you want, simply because eBay shoppers have a different perspective on what they should be able to find on the platform.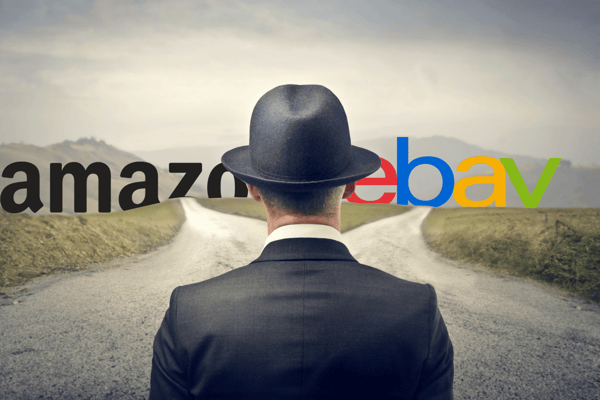 Selling on Amazon vs. eBay: Deciding Which Is Better for You
Ultimately, when it comes to the Amazon vs. eBay debate, you have to decide which option is right for you. Each platform has its benefits and drawbacks, some of which may matter more to you as a seller than it does to others.
Consider the points above, as they may help you determine which path is best. And, remember, if you aren't thrilled with your choice down the line, you always have the option of changing course.