4 Steps to Create an Omnichannel Marketing Strategy - 2023
You may lose customers if you don't contact them soon after they've shown interest in your product or service. A 2021 report showed that US employees switch 30 times between 13 apps in one day, making it increasingly difficult to capture and retain their attention.
Omnichannel marketing provides a solid solution by subtly but firmly reminding your customers of you, your products, and your services. It begins by understanding your customers' online and offline channels and reaching them where they'll most likely be. As a result, you improve your chances of getting that click on the "Buy" button for your product or service.
Creating a successful omnichannel marketing strategy takes time, effort, resources, and an extensive understanding of your customers. Defining your ideal customer persona is best instead of throwing ads everywhere. We will take you through the essential steps to creating an omnichannel strategy and how to make multiple channels work for you.
The Basics of Omnichannel Marketing
In its simplest form, omnichannel marketing involves blending the entire customer experience across multiple channels into one. That includes all touchpoints like online pages, social media platforms, email, SMS, and even brick-and-mortar stores (if needed). In other words, it blends your ads, emails, follow-up messages, customer orders, etc., into one.
An efficient omnichannel marketing strategy does not consider the online sales channels alone. Something like a P.O. box can help you turn potential customers into buyers. Think of it as giving your customer the flexibility to purchase or engage on multiple platforms.
Two things are fundamental to omnichannel marketing:
Customer interaction with you
Your response to those interactions
You'll create a successful omnichannel strategy once you consider these two as the foundation. Everything else depends on and is built on them.

Customer Interaction
Your customers should get to you from wherever they please. Suppose you have a landing page (online store) for a water dispenser. A potential buyer should be able to visit this landing page from social media channels, paid ads, emails, SMS, ad banners, etc.
Customers interact differently. As such, you must not restrict your reach to a few channels or have a single response for them. While one customer will add the product to the cart, another might not go past the product detail page.
Response
Your response to the former might be to offer a discount to encourage a purchase. Then, you might run an ad to present the product's usefulness to the latter.
An excellent omnichannel marketing approach keeps customers engaged until they purchase. It also improves customer retention via subtle but firm reminders. They don't have to market a particular product.

Understanding the Customer Journey
Those who focus on sales alone might miss out on particular customer delight. You must retrace your steps after thinking that the process is about you. Instead, focus on using communication channels to engage customers where they are.
With 64% of customers considering customer experience to be more important than price, consistency goes a long way. Maintaining a consistent customer experience across multiple platforms gives you an edge.
Case Study
Let's examine a case study of Clara, a fictional buyer interested in a water dispenser. Follow the outline below:
Clara runs a Google search for a water dispenser.
She finds a paid ad from Jamie Homes (a fictional eCommerce business).
She clicks the ad, which takes her to the product landing page.
She views the product and adds it to her cart.
However, she leaves the page without making a purchase.
Jamie Homes follows up with a discount offer on water dispensers on her social media channels, which is subtle enough to be non-intrusive—maybe for a week.
This marketing campaign can involve multiple channels, including YouTube, Pinterest, etc.
Clara finds the discount ad on Facebook and clicks on it.
She returns to the products page for water dispensers.
She fills in the shipping information but stops short of completing the order.
Jamie Homes sends a mail for in-store testing in its physical store close to her.
Clara goes to the brick-and-mortar store.
She finally purchased the product.
Jamie Homes sends a "Thank You" email.
The case study above shows various twists in the buyer's journey and the adaptive responses—notice the incorporation of social media and other marketing channels in the abandoned cart recovery strategy.
The scenario above gives an overview of an omnichannel marketing approach. It not only creates a seamless experience but also adapts to customer behavior. In this marketing strategy, response is essential.
Steps to Create an Omnichannel Marketing Strategy
Here are our recommended steps to create a robust omnichannel marketing strategy:

1. Understand Your Customer
Having valuable products is great, but knowing what your customers want is better. It might be challenging to build robust customer data if this is your first time selling online. Fortunately, you can grab them and gain valuable insights from third parties like Google Analytics.
Usage patterns are your greatest allies in understanding your customers. The easiest place to start is the data on browsing history. The following are essential questions to ask when planning your omnichannel approach:
What is the search history?
Which products or services are they looking for?
Where is their location?
Which devices do they use often?
These questions will help you optimize your digital marketing strategy; more on that later. This step aims to get as much information as possible to create buyer personas.
Social listening software is also valuable for understanding your target audience, especially on social media. You can track when and where you are mentioned. Then, you can understand customer expectations of your brand better.
Another fundamental approach is knowing your prospective customers' frequently used apps. With today's tools, there is so much you can track and gain valuable insights into different customers.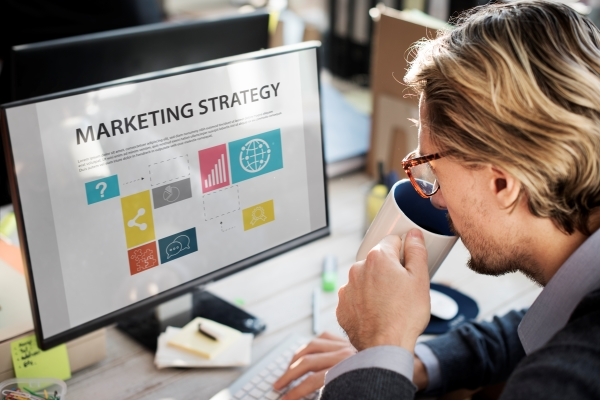 2. Launch Marketing Campaigns
Buyer personas are the backbone of successful marketing campaigns. It will no longer be about placing ads on various channels to extend your reach but about curating the ads for different customers.
Consider the case study with Clara above. Although the first ad was based on keyword searches, the follow-up discount ad was more personalized.
Your marketing campaigns will cover different stages of the sales funnel. However, this time, you will launch them with a customer-centric approach.
Customer relationship management software will help you track the customer journey. An example is a customer who clicked your ad but immediately left the landing page. Your omnichannel marketing strategy will include advertising on another platform to entice the customer.
Marketing automation tools help with repetitive tasks. They'll help maintain a seamless experience across different channels without breaking a sweat. You can position yourself for better customer engagement.
3. Create Adaptive and Automated Response
Customers may click on your ads or find you organically, but not end up buying from you. A 2022 survey among online shoppers revealed that brands would lose their loyalty if they provided an unpersonalized experience. Sending a personalized response can gently nudge the customer along their online shopping journey.
Here are some ways you can personalize the shopper experience:
Discount offers on the product
More ads about the product
Retargeting ads
These are responses, but the key is personalization. The buying process can be back and forth, taking considerable convincing before the customer purchases. At this point, you'll fall back on customer relationship management.
You must have messages for every stage of your omnichannel customer journey. Offline channels like SMS can also be vital for sending offers.
Email marketing tools have features like customer segmentation. That ensures different customer segments receive messages unique to them.
4. Optimize Your Landing Pages
If you need to redesign your e-commerce website, do it. The landing pages receive customers when they click on your ads across various channels. Ensure that they are optimized for multiple devices.
The landing page is often an overlooked aspect of omnichannel marketing. However, it plays a vital role in the final stages of the customer journey. You can view the bounce rate to see how many visitors move on to other pages after reaching the landing page.
Typical Software in Omnichannel Marketing
Data analytics is central to understanding customer behavior. Your omnichannel marketing strategy should include software that gives you adequate information.
The typical software for omnichannel marketing falls into the following categories:
Customer relationship management
Email marketing
Social media management
Marketing automation tools
What You Will Gain with an Omnichannel Marketing Strategy
Awareness improves when you have a consistent brand message on multiple channels. Customers engage better because they see the same brand message on these channels. Building on that, a successful omnichannel strategy will give you the following:
A consistent brand experience across multiple channels.
Increase customer engagement by reaching them where they are instead of waiting for them to come to you.
Gain insights into your customers.
Track and monitor customer interaction. This is where tools like

Google Analytics

will be beneficial.
Personalize the online shopping customer journey via multiple touchpoints.
Improved customer loyalty via a personalized customer experience

Conclusion
Whether you are into social commerce or have an eCommerce store, omnichannel marketing is essential. You need a strategy to optimize your reach on various digital channels. Also, ensure you have the customer persona at the heart of your omnichannel marketing.
Launch campaigns across the marketing channels, but ensure they blend into a seamless experience. Get tools for data analytics to help you guide the customer throughout the journey.
Are you interested in being a guest on the BlueTuskr E-commerce Blog? Click here for more information.