How to Hire Remote E-commerce Freelancers and Where to Find Them - Updated 2023
Hiring remote e-commerce freelancers can be an incredibly smart choice. You gain access to the exact skills you need right when you need them, all without a long-term commitment.
An estimated 57 million Americans freelance in some capacity. That's an astounding amount of talent, all looking for short-term, project-oriented opportunities. Plus, 31 percent of freelancers earn more than $75,000, suggesting that they freelance as their career, not a side gig.
If you need e-commerce professionals, but aren't looking to bolster your permanent team, the freelancer right is the ideal choice.
But hiring remote e-commerce freelancers can be challenging. After all, the hiring process itself is a bit untraditional, and it's always online. And, while e-commerce is your niche, vetting candidates might be a new online activity for you.
Luckily, there are things you can do to ease the hiring process. By knowing how to approach it, and which platforms can connect you with amazing freelancers, you can make quick work of your hiring needs. Here's how to get started.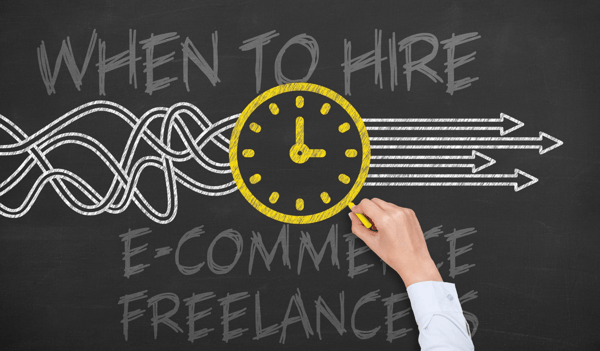 When to Hire E-commerce Freelancers
First, it's essential to know whether hiring a freelancer is the right move for your company. Usually, going this route is only a wise decision if you have a specific, short-term need.
Consider these questions:
Do you have an e-commerce project you just can't tackle on your own?
Is the project important, but you don't have the time to handle it without sacrificing your core operations?
Do you need a skill that you don't personally have, but won't need once the project is done?
If you answered "yes" to those questions, then an e-commerce freelancer could be the right choice.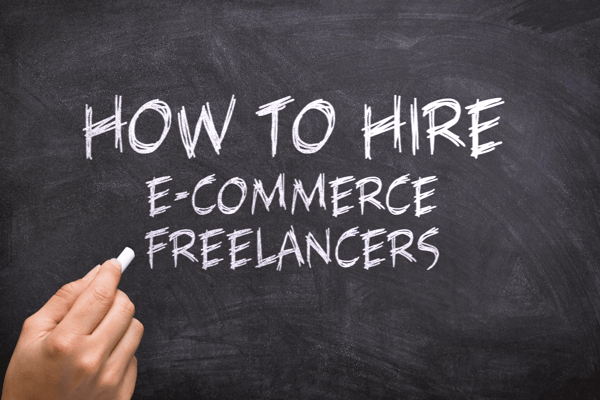 How to Hire E-commerce Freelancers
The process of hiring a freelancer isn't completely unlike traditional hiring. You'll need to outline the nature of the project and identify any must-have skills.
If you don't know exactly what it'll take for a freelancer to succeed, take a step back, and gather that information. After all, without a clear picture of what the project requires, you won't know what the best freelancer for the role even looks like.
You also need to figure out what you can afford to pay, and if your budget lines up with the going-rate for those skills. Many companies make the mistake of going too cheap. They figure since there are freelancers willing to work for less, why not focus on them?
The issue is, top talent expects fair compensation. If you aim too low, they won't apply; it's that simple. So, do your research. Look around the platform to see what others are paying. Or, if you find a great candidate or two through a search, reach out and ask what they would charge. That way, you know how to position your listing to get the exact kind of freelancer you need.
Next, you need to take that information and craft a standout overview of the project. When you create a job ad, using a marketing mindset. You need to convince your ideal freelancer to buy into the idea of applying for your position. If the ad isn't engaging and thorough or doesn't have a strong value proposition, you aren't going to attract the best and brightest right-fit candidates.
Then, once you have some applications in hand or identify contenders through a freelancer search, vet, vet, and vet some more. After all, unlike traditional employees, you usually don't perform conventional reference and background checks with freelancers.
Most freelancer platforms give you some resources to help you screen candidates, and it's crucial to make use of each and every one. Review their profiles and proposals. If available, read reviews left by other companies or take a look at the freelancer's success score or rating. Examine their portfolio if they have one and, if they don't, reach out through the platform and request examples of their past work.
And, of course, conduct an interview. Have a conversation through the platform you're using, or any other permitted option, and learn about their expertise, past projects, and more. Due diligence is the key to success.
If you think you've found a great e-commerce freelancer, and everything clicked during the interview, consider starting small. You can always give them a mini paid project as a quick test, allowing you to see whether they are actually the right fit for your broader needs.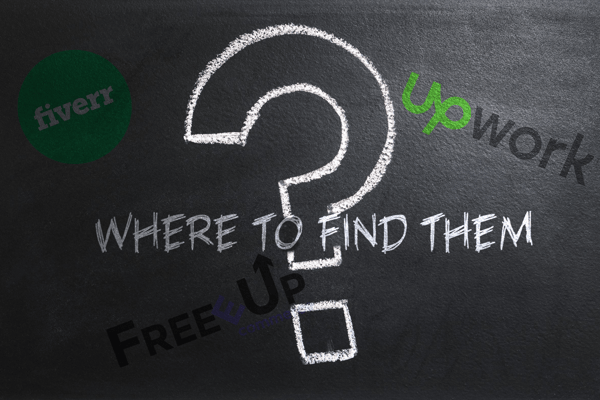 Where to Find E-commerce Freelancers

Fiverr
If you're looking for skilled e-commerce freelancers, you might want to create a Fiverr account to find the candidates you need. Over 11 million companies have found freelancer matches through the platform, which should boost your confidence a bit. Plus, getting started is always free. You don't pay until you choose a candidate and officially launch the project.
When you're vetting candidates, you can review the freelancers' profiles, work sample portfolios, and post-hire feedback from other companies. Fiverr doesn't do any vetting of freelancers, so checking out all of the available information is a must. That way, it is easier to decide if an e-commerce freelancer might be a great match before you launch into any conversations.
Fiverr works solely on fixed-rate projects, offering no hourly rate options. While this might seem limiting, it actually provides companies with an amazing benefit. You'll know exactly what you'll need to pay to get the work done upfront. That's something hourly rate project just can't provide.
Upwork
When you sign up with Upwork, a slew of e-commerce freelancers are just a few clicks away. You start by creating an account and then listing a job on the Talent Marketplace. Both of those steps are completely free, so you can get a feel for the platform before you spend a single cent.
Once you list a job, the platform will send you a list of candidates that match your project. Upwork does have some vetting processes in place, including freelancer identity verification. Beyond that, you can review the e-commerce freelancers' profiles and, if you find a great potential match, you can reach out and ask them to apply.
But that isn't the only way to connect with candidates. Unless you mark your job "invite-only," freelancers can also see your job posting on the marketplace. If it piques their interest, they can apply directly, as well.
After the proposals start rolling in, you can review them to find potential matches and reach out to conduct interviews. On candidate profiles, you can review their cover letter, an overview of their experience, their success rate on past projects, and any post-hire feedback from companies. Plus, Upwork's platform provides video and audio phone call options, as well as a messenger, centralizing your communications while maintaining your privacy.
If you find a great match, you can extend a job offer. Hourly and project-based payment arrangements are both available, giving you some flexibility.
FreeUp
When you sign up with FreeUp, you gain access to pre-vetted e-commerce freelancers who can hit the ground running. You don't pay a dime to get started, as creating an account is completely free. Instead, you pay a commission of 15 percent or $2 above the freelancer's rate (whichever is larger) only after hiring a freelancer.
Plus, the search process is ridiculously simple. Just submit a project, outlining your needs and budget, and FreeUp will connect you with a freelancer within one business day. Then, you conduct an interview, decide if it's a fit, and either go forward with that candidate or request a different one.
FreeUp goes the extra mile, screening every freelancer to determine if they'll offer the high-quality experience companies depend on to thrive. That increases your odds of finding the ideal candidate in that first match. If bullet train-like hiring speed is a priority, then FreeUp is your ticket to ride.
Managing freelancers through FreeUp is similarly a breeze. You can meet with freelancers through the portal, set expectations, and deadlines, approve hours, and more. Plus, you're billed weekly for hourly projects, simplifying the payment process.
One feature that really sets FreeUp apart is its No Turnover Guarantee. If a freelancer quits your project, the company will work to find a replacement without charging extra. If peace of mind is what you're after, what more could you want?
Ultimately, hiring a freelancer has never been easier. Any of the platforms above are great places to start. Just make sure to exercise due diligence and fully vet the candidates. That way you can get a standout freelancer quickly.