8 Ways to Instantly Improve Your Amazon Listing - Guest Post for BlueTuskr - Updated 2023
After you've spent so much time getting your Amazon business up and running, not investing in your product listing is the equivalent of fumbling the ball at the goal line.
It's a missed opportunity that could end up costing you the game.
Your listing quality matters –a lot. It's often the reason why some products fail while others like them succeed.
But what does a good Amazon listing look like?
In short, it grabs a shopper's attention and doesn't let go. It's informative, it's engaging, and it creates a positive customer experience that keeps buyers (and Amazon) happy.
If your listing leaves a lot to be desired, it's not too late to turn things around! Here are eight ways to improve your Amazon listing and see more clicks and conversions.
Tighten Up Your Content and Play by the Rules
Let's start with an easy one. The product details you include and how you present them significantly impact whether or not someone buys from you.
Shoppers arrive at your Amazon listing expecting to be able to make an informed purchasing decision. If you're missing vital product information, they can't do that. Most shoppers will immediately click over to the competition. Others may not notice or jump to the wrong conclusion, only to quickly return with a negative review.
A well-structured listing will also receive much more attention than a sloppy, unorganized one.
Online shoppers are notorious skimmers – very few people are reading every single word on the page. That's why it's crucial that you keep things clear and concise and put the information most important to your audience first.
You also need to keep in mind Amazon's listing policies. Some rules apply to all products sold on Amazon, while others will have additional style guidelines.
Use Amazon SEO to Your Advantage
Amazon is, in fact, a giant search engine. If you want your products to appear higher up in its search result pages (where most of the customers are!), you need to prove to Amazon that you belong there.
Amazon SEO (search engine optimization) can help you do just that.
This practice involves optimizing, or improving, your product pages with the end goal of increasing your Amazon search ranking. You need to focus on these different areas:
Keywords: The keywords you use in your content tell Amazon what your item is and which search queries your product should appear for. Amazon's ranking algorithm will evaluate your keywords' relevance to your product, so you need to choose them wisely. There are several ways to

find the best keywords

for your Amazon listing.
Product Title: Along with your main image, your product title is the first thing a shopper sees when searching for your product on Amazon. Refrain from keyword stuffing; Amazon only wants to see one or two top phrases here. Don't forget to include your brand name!
Key Features: Use this space to highlight your product's best features, but keep it under 1,000 characters in total. Place keywords near the beginning of your bullet points and don't repeat keywords used in your product title.
Product Description: This section should include more detailed information about your product and its usage. Add in as many relevant details (and keywords!) as you can without sacrificing readability.
Backend Search Terms: These are keywords hidden on the backend of your listing that Amazon also uses to help customers find your product. Limit them to generic words, synonyms, abbreviations, and alternative names for your product.
Your product images and pricing also play key roles in Amazon SEO, but we'll cover those in more detail a bit later.
Answer Customer Questions ASAP
Even when you explain your products in what seems like exhausting detail, it's still common for customers to have questions about them.
All Amazon customers can ask questions about a product on the item's listing page. While other customers can comment, it's important that you also answer when appropriate.
Be sure to respond promptly (you'll receive notifications for new questions in Seller Central) and remain polite and professional. This is a great way to demonstrate your commitment to the customer experience and to build more trust in your brand.
It's also a great opportunity to correct any false or misleading narratives about your item. Since Amazon's review commenting feature was retired a few years ago, this is now your only chance to directly communicate with customers on your product page.
One more suggestion: if you continually see the same types of questions, this could be a signal that some key information is missing or may be too confusing. Rectify this ASAP!
Perfect Your Pricing Strategy
Having the right price tag for your products is a huge deal. Price is a key motivating factor for most buying decisions, but on Amazon, your product ranking and Buy Box ownership depend on it too.
And considering that more than 80% of all Amazon sales happen through the Buy Box, you really, really need to be here.
But it won't happen if you're priced too high or too low.
Keeping your pricing competitive –without sacrificing your profits– is the best way to get there and reap the rewards.
With this in mind, you probably want to avoid manual repricing unless you only have a couple of items. It's not very feasible for a large product catalog.
An easy solution is Amazon's Automate Pricing tool, which automatically adjusts your prices against the competition. You can choose between several predefined pricing rules or make your own. Even better, a recent update now allows you to set minimum and maximum prices for your listings in bulk.
Or, you can always A/B test your price points or outsource this task in its entirety to a third party. Whatever the case may be, make sure your pricing strategy creates a strong path forward for your business.
Have High-Quality Creatives
Each Amazon listing is required to have at least one product image, but doing the bare minimum isn't going to do you any favors.
Your images alone are often the greatest conversion factor for your products. You want to fill this space with attractive, high-quality images that communicate the value of your product and convince people to purchase.
You may upload up to nine images depending on your product category. You'll want to pay particularly close attention to your first, or main, image, which is the one shoppers see displayed in Amazon's search results.
Other popular Amazon images are styled lifestyle shots that show the product in real-life settings, infographics that combine text and images to highlight key product features, and secondary studio images that relay the more practical information about your item.
It's also highly recommended that you include at least one product video to help buyers better understand your item.
Here are a few best practices:
Create videos with good production quality and consider using voiceover and text overlays
Demonstrate how the product works and highlight its unique qualities
Avoid using promotional or paid testimonials
Do not create a commercial for your brand or company
Amazon has said that some sellers have experienced a 9.7% increase in revenue after adding a product video.
Design Awesome A+ Content
Once you get on a roll with your image creation, make sure to reserve some shots for your A+ Content!
This is a highly popular feature available to vendors and third-party sellers enrolled in the Amazon Brand Registry. When you have access to A+ Content, you can enhance your product description with custom paragraph headers and images, bulleted feature lists, unique image and text layouts, and product comparison charts. You also can include carousel displays and links to other products and your brand store.
When done well, it turns into a pretty impressive display! A+ Content is considered to be one of the most effective ways to educate shoppers on your offerings (which results in fewer returns and negative reviews), increase traffic, and improve conversion rates.
According to Amazon, A+ Content can help increase sales by an average of 5%.
Try Amazon's Brand Story Feature
One of the downfalls of selling on Amazon is the limited real estate available. Listing pages are capped at a certain length, so you understandably must focus on your product features and benefits first.
Something that often falls by the wayside is your brand story. Every brand has one, and customers love to hear it. It's easy to lose the human connection in eCommerce, and a brand story helps restore some of that.
With Amazon's new Brand Story feature, you now have a dedicated space to tell yours. It appears right above A+ Content in a section called 'From the brand.'
The different modules available allow you to differentiate yourself from the competition and emphasize your unique value proposition to boost brand awareness. Each page of the scrollable carousel is linkable, making it easy to drive traffic to your brand store and other product pages, too.
You must be brand registered to use this feature.
Improve Your Amazon Reviews
Your Amazon reviews are directly tied to the success of your business. Products with large numbers of positive reviews attract more attention from customers who are using them to validate a product's quality, performance, and authenticity. So, the more you have, the better your chances are at earning new customers.
But that's not all.
Increasing your reviews can also improve your Best Seller Rank, which helps your product appear higher in Amazon's search results, and your overall ad campaigns. Sending paid traffic to pages that won't be well received by shoppers is never a smart strategy.
Organically getting reviews can take some time, but you can speed things along – and reach more buyers – with automatic review requests from software such as eComEngine's FeedbackFive. Better yet, the FastTrack plan is specially designed to help you get reviews, fast!
You can also use your Amazon reviews to improve your overall listing quality. Here are two ways how:
1) First, look at your listing's negative reviews. If buyers are saying the item isn't as described, the product is too difficult to use, or some feature info is missing, you can solve the problem by making adjustments to your listing content, images, packaging, assembly instructions, etc.
2) Then, compile your positive reviews. What words or phrases are commonly used by customers? These could become lucrative keywords if you're not already targeting them. You can also find frequently used phrases in the 'Read reviews that mention' section on your product page.
Monitoring your reviews with FeedbackFive can also help you make more sense of your review data and inform you of your next steps.
Start Improving Your Amazon Listing Today
As you can see, listing an item on Amazon can be both an art and a science. And OK, it'll take a little work to get it right. But keep trying – you don't have to do everything at once. Even small improvements here and there will make a huge difference.
If you need more help, especially when it comes to improving your Amazon reviews, don't hesitate to reach out!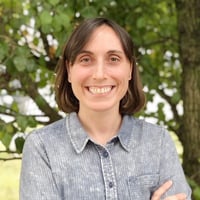 About the Author
Ellen Sipp-Paris is the Content Manager at eComEngine. Her goal is to help educate Amazon sellers so they feel more confident in what can be a complicated marketplace. When she's not writing, she enjoys taking nature walks, reading, and going to concerts. You can reach her on LinkedIn.
Are you interested in being a guest on the BlueTuskr E-commerce Blog? Click here for more information.