10 Top Inventory Management Softwares for E-commerce Sellers - Updated 2023
As a seller, few software solutions are going to be as important as your e-commerce inventory management software. Without the right option in place, you have no choice but to monitor your stock manually. And, while this may work if you're starting out very small, it inevitably will become too much to bear.
Plus, by choosing a leading e-commerce inventory management solution for your business, you gain more than simple tracking capabilities. You can manage orders, monitor lead times, and track deliveries, just to name a few.
But selecting inventory management software can be a daunting prospect for many e-commerce sellers. There is a slew of options available, making it hard to make the right choice the first time. If you want to make sure you pick a winner, here's what you need to know about e-commerce inventory management solutions, as well as a look at some top performers.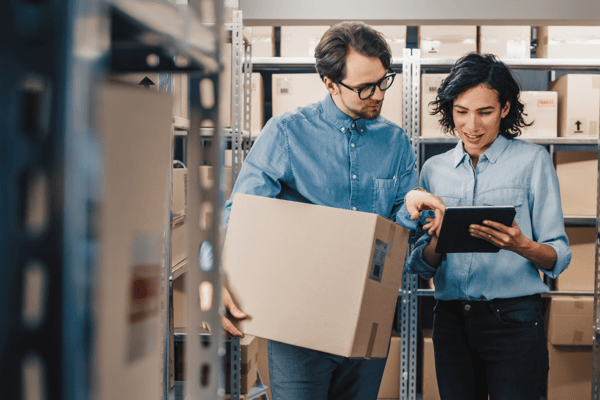 Why E-commerce Inventory Management Software Is Essential for Sellers
As a seller, poor inventory management practices can be detrimental to your business. Without the right insights into your inventory, cost-efficiency and organization often go straight out of the window. As a result, profitability diminishes.
With the right e-commerce inventory management solution, you gain purview into your assets. That allows you to avoid outages and overstocking, both of which are harmful to your operation. If you run out of stock of an item, you are effectively sending customers to a competitor. You're missing out on opportunities to capture a sale, and that's never good.
If you have too much of a particular item, you typically incur costs. For example, FBA sellers may get charged long-term storage fees on slow-moving or stagnate inventory. That means those items are costing you money instead of helping you turn a profit.
Plus, with a great e-commerce inventory management software solution, you can monitor sales, order fulfillment progress, and deliveries, all from a single solution. Tracking lead times, preferred vendors, dropshipping sources, item costs, inventory forecasts, and more capabilities usually also come with the package, too.
Most robust inventory management solutions for e-commerce sellers are also incredibly scalable. If your operations grow, the software can still accommodate you. Many of the options can support multiple channels, allowing you to start with, for example, Shopify, and then add Amazon, eBay, Walmart, and more.
Ultimately, the right inventory management software makes a world of difference. It simplifies and centralizes core parts of your operation, providing you with powerful insights you just can't get through manual tracking alone.
10 Top E-commerce Inventory Management Software Solutions

1. NetSuite
NetSuite isn't just inventory management software. Instead, it's an all-in-one solution, bundling inventory management, marketing, and accounting features into a single platform. It essentially centralizes your back-of-house operations, allowing you to handle nearly any task from a single portal.
Additionally, NetSuite is cloud-based, making it accessible from essentially any internet-connected device. It also provides you with access to business intelligence tools, forecasting features, order management capabilities, supply chain management insights, and dropshipping options.
In some cases, NetSuite may bring more to the table than some e-commerce sellers will need. However, it's worth considering if you want a robust toolset and to centralize your operations.

2. Zoho Inventory
With Zoho Inventory, you get a solid solution for inventory tracking, as well as sales order and invoice creation. Along with stock level monitoring, you can track inventory movements in every phase. It also has some helpful features that you don't find everywhere else, such as backorder support.
When it comes to order fulfillment, Zoho Inventory has integrations for dozens of carriers. You can also calculate shipping rates based on current costs and print labels directly from the platform.
If you sign up, you get free setup assistance, giving you access to an expert who can help you hit the ground running. As a bonus, Zoho Inventory can fully integrate with WooCommerce and offers multi-channel support for Shopify, Amazon, eBay, and Etsy, as well as others. On the payment end, it's PayPal and Stripe compatible.
Plus, there is a free account option, making it ideal for newer sellers who are starting out small. If you need more capacity, scaling up is simple and, generally, pretty affordable.

3. Cin7
If you're looking for a comprehensive inventory management solution that can bring e-commerce channels together with physical store inventories, Cin7 could be one of your best bets. It can fully sync multi-channel inventories, allowing you to streamline your vendor ordering process, too. There's even a built-in POS, which is something many competitors don't offer.
This solution also has robust cost-monitoring tools as well as inventory planning features. Dropshipping and product bundle options are also available, along with comprehensive accounting capabilities.
Integrations aren't lacking here either. It is compatible with most major e-commerce platforms, including Amazon, Shopify, eBay, and more.

4. ecomdash
ecomdash makes inventory tracking simple and intuitive. You can monitor item quantities across multiple sales platforms all through this centralized portal, giving you a full view of your product inventory. It is also compatible with a range of popular sales platforms, including Amazon, eBay, Shopify, and Etsy.
With this solution, you can set customized alerts that will let you know when your inventory levels dip below a certain point. You can also create vendor purchase orders from inside the platform, allowing you to re-up quickly.
This platform also allows you to track individual items as well as bundled products. And, if one part of a bundle sells out, the platform automatically lists the bundle as unavailable.

5. Acctivate
If you're a QuickBooks user, Acctivate was created with you in mind. It's an all-in-one style solution that can help e-commerce sellers better manage their inventory. It updates in real-time, ensuring you always know what you have on-hand. It can make optimizing your inventory levels and re-ordering process easier, allowing you to correctly time when you bring in more product.
Plus, it can give you powerful, data-driven insights that can boost productivity and profitability. You can unify activity through several sales channels, ensuring you can get a complete look at your business quickly.

6. Fishbowl
While it is designed with manufacturing companies in mind, Fishbowl offers comprehensive asset tracking options that can serve e-commerce sellers well, too. It works with Amazon, Shopify, eBay, and many other e-commerce platforms, as well as various shippers, such as FedEx, UPS, and USPS. It's also QuickBooks compatible.
You can set up automatic re-order points and receive real-time updates regarding inventory levels. This keeps you in control, reducing your odds of your top sellers becoming unavailable. Plus, you can gather insights about potential overstocks, allowing you to decide when liquidating is strategically a smart move.

7. Ordoro
Ordoro offers multi-channel support, including Amazon, Shopify, eBay, WooCommerce, and more. You get robust inventory tracking tools, as well as automated re-ordering features, ensuring you never have to worry about running out of stock.
Along with inventory management, you can also coordinate a range of shipping activities. For example, you can access discounted USPS rates and batch print labels with ease.
This platform also supports dropshipping. You can handle fulfillment personally, or use the available Vendor Portal to coordinate directly with suppliers, centralizing a critical aspect of your business.

8. ShipStation
If you're looking for a simple way to get your items out to customers and keep an eye on your inventory, ShipStation is a strong option. Through the platform, you can track your orders from across multiple channels and keep an eye on your stock levels.
ShipStation connects to a wide range of e-commerce platforms, including Amazon, eBay, Shopify, Etsy, Walmart, and Jet, just to name a few. As a nice bonus, the platform also comes with a robust mobile app, making it easy to keep an eye on your operations while you're on the go.
With this platform, you also get access to discounted rates from UPS, which is a boon for sellers that handle their own fulfillment. Plus, you can compare rates across carriers, allowing you to choose the most cost-effective option on any given day.

9. ChannelAdvisor
A comprehensive, all-in-one-style solution for e-commerce sellers, ChannelAdvisor makes centralizing your operations a breeze. Whether it's dropshipping, fulfillment, marketing, or inventory management that's troubling you, this platform can help.
With ChannelAdvisor, you can manage your operations on Amazon, Walmart, eBay, and over 100 more marketplaces. You can also track your inventory across all channels, as well as take advantage of various automation features to streamline order and fulfillment-related processes.
From within the platform, you can also manage your purchase orders and invoicing, including for dropshipping activities. It's also possible to set up automated inventory quantity updates for your retailers, ensuring your stock levels remain accurate.

10. Skubana
If you want to monitor your activities across several sales channels, Skubana can make that easier. Along with robust inventory monitoring tools, it provides you with insights for each SKU you manage. You can find out which ones are performing well and which ones are struggling. The platform even creates recommendations, allowing you to see if you may need to boost stock levels, liquidate a dud, and more.
Plus, the platform offers a range of automation tools. It can generate purchase orders based on a trigger, ensuring your stock levels remain optimal. Plus, you get access to forecasting features, allowing you to anticipate shifts in demand before they happen.