TikTok Ads For E-commerce Sellers: What to Know to Get Started - Updated 2023
Did you know that in October of 2020 TikTok reached 2 billion downloads? There is no doubt that we are well into the age of social media and any platform with billions of user's attention has incredible marketing potential. What's more, TikTok is upping the ante with new features designed to keep their influencers on the platform.
If you sell anything online, adding TikTok e-commerce social media marketing to your strategy deserves serious consideration. Despite some recent challenges for the Chinese-based video sharing application, TikTok is competing with the big boys of Facebook and YouTube with new monetization features.
Whenever a big-name online presence like this offers more and better ways to make money online, we take notice. In this guide, we lay it all on the line. Keep reading to learn more about TikTok and how you too can leverage the platform for more e-commerce profits.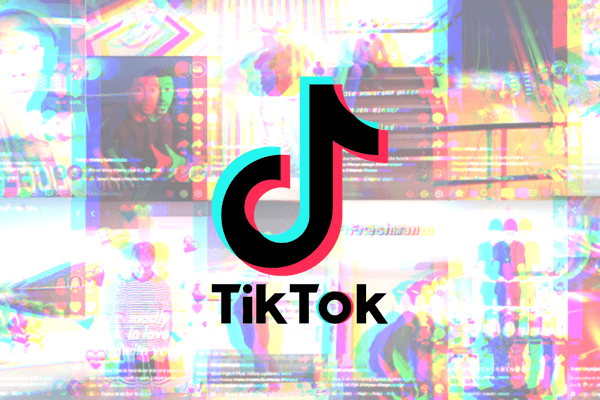 Brief History of TikTok
In the grand scheme of things, TikTok is a newcomer to the social media revolution. TikTok is the international version of the Chinese app Douyin. Douyin is hugely popular in China but only available on Chinese networks (known for extensive censorship).
Basically, TikTok is part of "tidbit culture" and a way for all of us to share and learn from each other. Social media users engage quickly and for short periods, making strategies like meme marketing highly desirable. Short video posts (15- 60 seconds each) that are entertaining and are enjoyable get attention and creativity is rewarded with positive approval from the TikTok community.
The Early Days
September 2016 in Beijing, China, the short video sharing app "A.me" was released by ByteDance Ltd. A few months later, in December, the company rebranded to Douyin (抖音) which means "vibrating sound" in Chinese.
Despite always wanting to have a global presence, ByteDance struggled for two years to expand out of China. It wasn't until merging with another Chinese media service, Musical.ly, in August of 2018 that the application was made available internationally.
Douyin and TikTok are basically the same application with almost exactly the same interface. However, the two don't have access to each other's content. Keeping the Chinese market close has long been the strategy of Bejing in the global economy.
Recent Challenges
It is rather ironic that a widely accepted Chinese social media app would face so much opposition concerning content as the Chinese government heavily censors content. Pakistan's Telecommunications Authority recently banned TikTok in Pakistan for the second time citing "inappropriate content".
TikTok has already been banned in India since June of 2020. This was a big blow to the company as TikTok had 120 million users in India before the ban. The Indian government claims that "TikTok is a threat to our sovereignty and integrity."
The Trump administration was adamant about forcing the company to sell to an American company under threat of a US ban stating "national security concerns". A move that the Biden administration has not backed down on but it remains to be seen if further action will be taken.
The UK has also expressed concerns about "child privacy issues" with the app. In fact, London sued TikTok for billions of pounds accusing the new social media giant of illegally harvesting the private data of millions of European children.
At Time of Writing
March 2021 social media statistics puts TikTok at over 732 million active users, up from 30 million in January of 2020. Rising to the 7th most used social media platform in the world, TikTok is making huge waves online.
It would seem they have already won the hearts and minds of the younger generation as the majority of TikTok users are under 30 years of age. TikTok and Instagram are a great way to reach the tech-minded generation-z.
The predominately younger users are already familiar and comfortable with online shopping making that target market the most likely to be rached. However, recently the app is gaining in popularity with older social media users.
Despite geopolitical opposition to its rise, TikTok continues to grow at a phenomenal rate. The application's unique video sharing algorithm makes it possible for anyone or any company to reach a massive audience with their content.
The name of the game is getting as many people's attention as possible and TikTok has certainly gotten ours.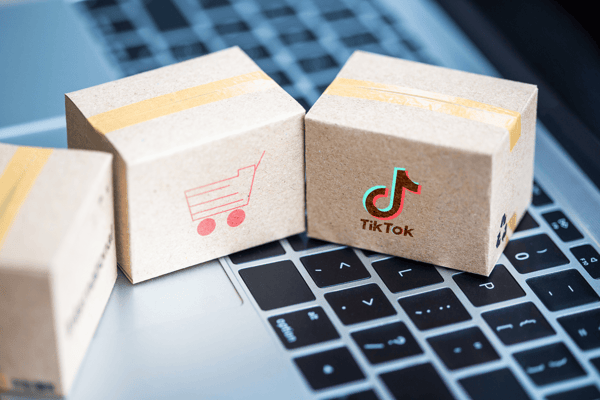 TikTok's New E-Commerce Integrations
Nobody can deny that TikTok commands a respectful audience with amazingly high user engagement. Yet, they risk losing their top creators if they don't improve on their monetization opportunities. Facebook and YouTube still offer more effective ways for creators to earn money, but TikTok is making big moves to change that.
With the pressure (somewhat) off now that Trump is out of office, TikTok is gearing up for rapid expansion into e-commerce in the US. TikTok announced a number of new features to the app for 2021 that have us excited.
Affiliate Marketing
Advertisers in the US were briefed on a new tool that will allow users to share links to products with their followers and receive commissions on any sales. TikTok is already in talks with big names in e-commerce like Amazon.
Towards the end of 2020, TikTok partnered with Shopify, the popular e-commerce platform. The agreement gives Shopify's million-plus merchants better direct access to TikTok's audience to drive more sales.
Shopify merchants are now able to download and install the new TikTok channel app from their app store. The app gives merchants access to the TikTok For Business Ads Manager where they can set up advertising campaigns. Partnering with Shopify and allowing users to connect with merchants is already a proven e-commerce strategy with Facebook.
Ad Tools
TikTok Pixel, a tool that tracks conversions from TikTok ad campaigns, gives merchants all the data they need to judge the effectiveness of their TikTok marketing. Tracking user actions such as:
Page browsing
Adding items to cart
Placing orders
Payment completions
A group of beta testing merchants raved about the potential of the new features to reach the growing TikTok community. Online sellers are now able to market their products to millions of TikTok users even without having a massive following of their own.
Livestreamed Shopping
There are substantial rumors that TikTok is about to launch its own version of TV shopping channels, but for smartphones. TikTok users will be able to instantly buy products showcased by their favorite influencers in an endless stream of shopping fun.
TikTok is holding these cards close to their chest, but after testing a live shopping feature with Walmart towards the end of last year, it seems only a matter of time before virtual shopping on TikTok will explode on the e-commerce scene.
Self-Service Ad Platform
TikTok is further developing their already innovative Ads Manager for brands to more easily manage TikTok e-commerce campaigns. The TikTok ads platform consists of a handful of tools to create, manage, track, and launch advertising campaigns.
The self-service ad platform makes launching an ad campaign simple enough that anyone can do it. It is just a matter of filling out the online form with your target audience (demographics) and ad budget and uploading your ad. Once approved by TikTok's in-house marketing department, your ad will start appearing in TikTok user's video feeds.
WPP Partnership
Back in February of 2021, TikTok joined forces with WPP in a global agency partnership. Recognizing the culture-shaping power of TikTok, the world's largest advertising company based in London, WPP championed the partnership to the press.
WPP agencies and clients were given unique access and capabilities on TikTok that should further feed the growth of both companies. TikTok has named WPP as their Lead Agency Development Partner for creator-focused APIs.
With WPP on board, advertising agencies are starting to see TikTok as a major player in e-commerce. Facebook, YouTube, and Instagram are understandably nervous about the bold move into their territory.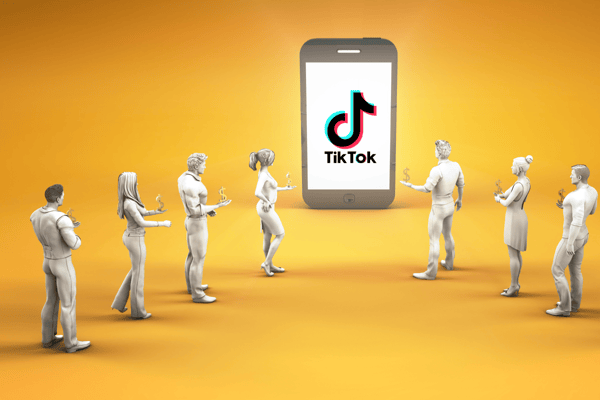 Monetizing TikTok
Many TikTok creators are understandably disappointed with their earnings from the platform even as their followings grow into the millions. Many advertisers have stated plainly that TikTok marketing still appears to be in its infancy.
Only time will tell if the aforementioned changes explode the platform even more in 2021. If the statistics are any indication, TikToc could very well close in on the king of social media, Facebook. So, how do you get in on the money grab?
Getting Started
There are more or less two paths to earning with TikTok. You can build a following as a creator/business channel or start an ad campaign where your product, store, or service is promoted on the platform.
In 2019, TikTok introduced a self-service advertising feature, much the same as Facebook. This made launching an ad much easier than before.
Most advertising on TikTok is managed through the TikTok ad account manager so your first step is to open a TikTok ads account. Use the name of your brand to start advertising it on TikTok.
Building a Following
Easier said than done. It takes time and great content to get the attention of the TikTok community. The good news is you don't have to be an influencer with millions of followers to launch a successful ad campaign on TikTok.
Marketing on TikTok by paying popular creators to promote hashtags has the potential to get billions of views. A great example of this is a viral video posted on TikTok by Zach King in October 2020. The "digital magician" first gained fame and fortune with his popular YouTube channel.
The video shows Zach walking up to the counter of Chipotle to pay for a burrito with chips. After paying he jumps, magically changing him into astronaut gear. Everything in the store starts floating around as if in the zero-gravity of space.
The paid video promoted the hashtag #burritto which was an ad campaign promoting Chipotle's Halloween $4 burrito special. The hashtag received 3.9 billion views on TikTok.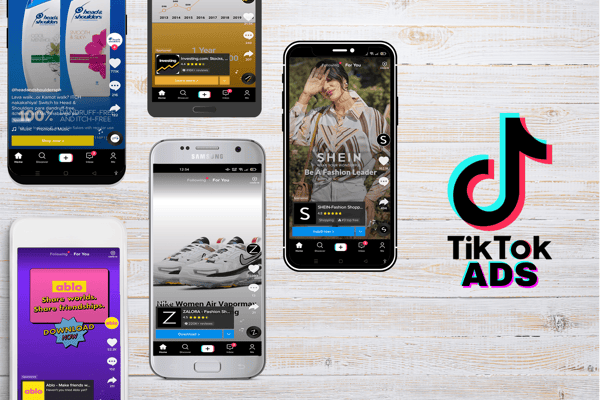 Ads on TikTok
There is a tricky fine line between annoying users with too many ads and keeping a free app profitable with advertising. So far, judging by its popularity, TikTok hasn't crossed that line. TikTok has four ad products:
Brand takeover
In-feed video
Hashtag challenge
Branded Lenses
Each of these ad types has its own advantages and cost. Let's take a closer look at each.
Brand Takeover
These are the most impactful and intrusive of the ad offerings. When opening the application, TikTok users are subjected to an ad before the ad changes into an in-feed ad. These ad spots are obviously limited and competition drives up the price of these ad slots, making it a less realistic option for small businesses.
In-Feed Video
This is the most popular way to go as it is the most cost-effective. These ads are generally easier to set up (with TikTok's self-service platform). You can target different TikTok user groups with ads directly in their native feed "For You" page.
Branded Hashtag Challenges
This approach works very well with TikTok as hashtag challenges encourage user engagement. With the right challenge, a brand has the potential to go viral without paying an arm and a leg for millions of ad impressions.
The opening video, normally done by a top influencer with a huge following, records themselves completing a challenge. They then encourage their followers to "take the challenge" themselves and upload their attempt under the same branded hashtag.
Branded AR / Effects Content
This is an interesting way to plug a brand. Marketers can provide creative video elements that help creators produce more interesting content. These include, but are not limited to green screen animations, branded lenses, and stickers.
Leverage TikTok E-Commerce
Although it is hard to say how far the TikTok craze will go, TikTok e-commerce is on fire. E-commerce advertising on social media works in ways television and radio advertising never came close to. Highly engaging and focused ads that speak directly to your market are a compelling reason to launch a TikTok ad campain.
When it comes to advertising a brand on social media, creativity can end up being more powerful than a large advertising budget. Study successful TikTok ad campaigns for inspiration. If you are understandably confused about the ever-changing social media marketing strategies and want to learn more, visit or E-Commerce Tutorials page.
Your blog post content here…