The e-commerce industry is evolving at a rapid pace. According to a report from Statista, the global e-commerce market is expected to grow from its current value of $2 trillion to $4.9 trillion by 2021.
This unprecedented increase in the market size has also triggered an unprecedented number of changes in how businesses approach the sector. As a result, almost every e-commerce business today needs a strong SEO strategy to thrive in this new environment.
But, as you'll see, many factors come into play when determining your SEO strategy for e-commerce.
You might be running an online store on Shopify or another CMS platform, which means that some of these recommendations won't apply to you—but most likely, they'll still provide some insight that can help you improve your site even more.
Let's look at what we think are the most critical points when optimizing your e-commerce site for search engines and potential customers in 2022!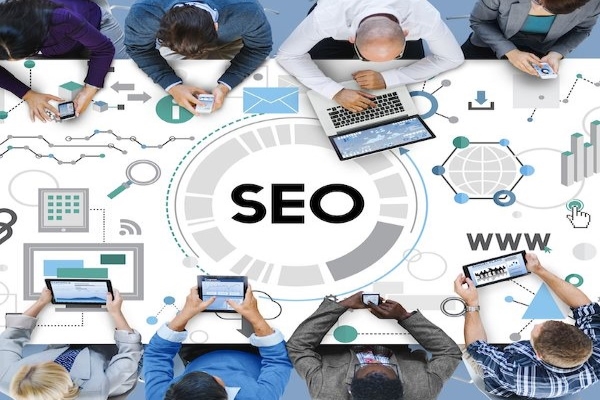 SEO In E-Commerce Is More Than Just SEO
While it's true that the most critical aspects of your e-commerce SEO strategy will typically come under the umbrella term "SEO," you can't approach the topic without considering the other factors at work in the e-commerce industry.
For example, one of the most significant trends in e-commerce right now is the drastic increase in mobile traffic. Since most online shoppers still prefer to browse and purchase via mobile devices, you must approach your SEO strategy with mobile in mind.
Search engine results are now being personalized more than ever, so you can no longer rely on a "one size fits all" approach to e-commerce SEO.
To succeed in today's e-commerce landscape, you need to create a highly customized and targeted SEO strategy that considers the unique needs of your business, your customers, and the search engines you're trying to rank with.
User Experience Is The Most Important Aspect Of SEO
Search queries are becoming increasingly specific, so searchers almost always look for a particular thing when they type something into a search engine.
This might surprise some SEO practitioners, but SEO for e-commerce isn't just about increasing your site's ranking on Google. It's also about bringing in more qualified leads and getting them to buy from your eCommerce site.
This is crucial in an industry where one of the biggest trends is that consumers are increasingly shopping online on their mobile devices—which means they're looking at your site on a small screen.
The first step in achieving a top-notch user experience with your e-commerce SEO strategy is ensuring that your initial user journey is as smooth as possible. Your site should be easy to navigate, visually appealing, and (above all) quick to load.
Keyword Research For E-Commerce SEO
Of course, e-commerce keyword research is still significant for your SEO strategy. You need to ensure that you're targeting the right keywords to bring in the right traffic.
But, as we mentioned above, you also need to ensure that those keywords will result in sales—not just clicks. This means that you need to put in the time to research not only the right keywords but also the right intent behind the target keyword.
On-Page SEO And Off-Page SEO
On-page SEO and off-page SEO are other areas where e-commerce businesses must focus their attention. This means ensuring that your website's structure is conducive to good SEO (for example, by using breadcrumb navigation) and creating high-quality content that will earn links and social media shares.
Target Keywords
Target keywords must be placed strategically throughout your site, including in titles, meta descriptions, product descriptions, blog posts, and your e-commerce platform's code.
And all of this needs to be done with mobile users in mind—which means you must ensure that your website is responsive and that your content is mobile-friendly.
Duplicate Content Is Still A Big Problem
If you have duplicated content on your e-commerce site, fixing it as soon as possible is essential. Google has been cracking down on duplicate content for years, and they're only getting stricter with their penalties. SEO efforts should focus on creating unique, high-quality content targeted to specific keywords.
Relevant Keywords On Your Web Pages Must Be Used Thoughtfully And Strategically
Your e-commerce pages must be keyword-rich but not to the point of keyword stuffing. Your keywords should be used judiciously and strategically placed throughout your content to avoid any penalties from Google.
Dynamic Product Ads Are Becoming The New Standard
Dynamic product ads are targeted to your specific product pages and are incredibly helpful for increasing your sales and your e-commerce SEO.
However, not all e-commerce sites can run product ads, and some sites that do run them cannot get the total value out of them because they don't have the right e-commerce SEO strategy.
This is because product ads work best when you're targeting particular groups of people with your ads. This can be difficult if you have a long product title or target too many niches with a single product.
Not all e-commerce sites can run dynamic product ads, but if you can, it's worthwhile to ensure that your e-commerce SEO strategy is up to snuff.
Shopify Shoppers Are Currently Very Brand-Centric
One of the most important considerations in your e-commerce SEO strategy is the type of shoppers you attract. While this can vary from niche to niche, certain shopping trends are common to most.
While niche-specific keywords will always continue to be necessary, it's also crucial that you focus on getting a solid brand name out there.
After all, consumers will probably type in many different terms before they finally decide. But what does this mean for your e-commerce SEO strategy? Well, it means that you should consider investing in brand-building efforts that can help you to reach a larger audience.
Amazon Will Continue To Dominate E-Commerce
While other brands have succeeded in the e-commerce industry, there's no denying that Amazon is still the e-commerce giant.
The only way it could become more dominant would be if the government passed a law making e-commerce illegal. This isn't to say that it's impossible to be successful in the e-commerce industry without competing directly with Amazon.
However, it is to say that if you're hoping to beat them at their own game, you're going to have to put in more effort than ever before.
Discover The Best Places To Channel Your Marketing Budget
When determining the best places to channel your marketing budget for your e-commerce SEO strategy, it's essential to decide on where your target audience spends their time.
This information will help you to spend your budget in the most effective places. For example, if you're hoping to reach the Baby Boomer generation, it might make sense to invest in TV ads.
However, if you're hoping to reach Millennials, TV might not be the best place to put your money.
Develop A Strong Internal Linking Strategy
A solid internal linking strategy will help you organize and navigate your site better, and it can positively impact your e-commerce SEO.
One of the best ways to do this is to create category pages with links to the subcategories. Not only will this help you to navigate your site more efficiently, but it will also help search engines to navigate your content more accessible.
While e-commerce SEO has always been important, it will only become more so in the future. This is because search engine crawlers are getting smarter and starting to understand e-commerce sites better.
Google Analytics E-Commerce Tracking
Search engine bots are constantly crawling e-commerce sites to catalog their products. However, they don't always have an easy time understanding the context of what they're looking at.
Google Analytics eCommerce tracking is a great way to track the performance of your eCommerce website. Not only will it help you to see how much traffic you're getting, but you'll also be able to see where that traffic is coming from.
This information can be beneficial when determining which marketing channels are the most effective.
It can also help you see which products sell the most and which might need a little more work.
The Benefits Of Having An E-Commerce Checklist
The google search console is a powerful e-commerce SEO tool that can help you to keep track of your e-commerce SEO progress.
It also provides you with data that can help you to make changes to your e-commerce SEO strategy.
An e-commerce checklist can help you keep track of your e-commerce SEO progress and provide data that can help you make changes to your e-commerce SEO strategy.
This is just one example of the benefits of having an e-commerce checklist.
E-commerce search engine optimization can be a very time-consuming and challenging task. However, by following the e-commerce SEO checklist, you can be sure that you are taking all the necessary steps to optimize your site for success.
Additionally, this checklist will help you to save time in the long run, as you won't have to waste time fixing errors that could have been easily avoided.
A Final Word: Keeping Track Of E-Commerce SEO Changes
The e-commerce industry is always changing, new trends are constantly popping up, and old ones are dying down. However, this doesn't mean keeping track of them is impossible. So keep up to date with the latest e-commerce trends, and keep an eye on how things change.
This will help you stay on top of the e-commerce industry and ensure that your e-commerce SEO strategy is always evolving and improving.
By following this eCommerce SEO checklist, you can be sure that you're on the right track to optimizing your website for search engines. If you need help with any steps, don't hesitate to reach out to an experienced eCommerce SEO consultant who can guide you through the process.