Shopify vs. Magento: Which Is Best For Your E-commerce Business? - Updated 2023
Out of every 12 small businesses started, 11 of them are statistically going to fail. But that's only an average, and most people starting businesses do so unprepared. With the right preparation, you can beat the odds and make your business the one that succeeds.
When you've chosen an e-commerce business model, the platform you choose is one of the most critical aspects of preparation. Two of the leading platforms in the e-commerce industry are Shopify vs. Magento.
But which one should you choose for your business?
Although Shopify and Magento are both very powerful systems, they have many differences. This comparison guide will go into detail to help you understand those differences and make the right choice for your online store.
Choosing between different software options can sometimes feel overwhelming and complicated. But by the end of this comparison, you should have a clear idea of what each e-commerce platform offers.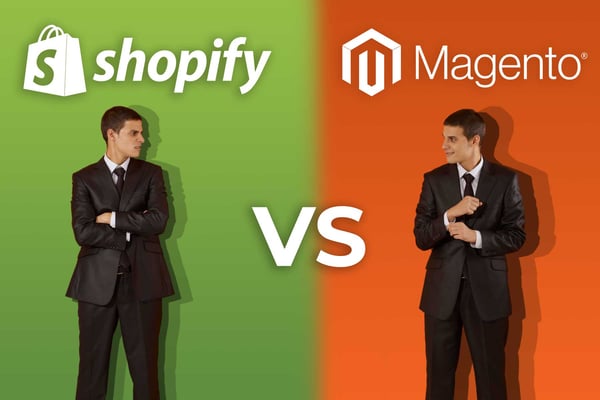 Shopify vs. Magento: Understanding the Two Platforms
At first glance, it may seem like choosing Shopify or Magento is just a matter of taste. After all, they're both platforms for selling your products online. How complicated can it be?
In reality, Shopify and Magento are very different tools, which will work differently for different people.
How Shopify Works
Shopify is a SaaS (Software as a Service) business that provides comprehensive sales and business management infrastructure.
Shopify is best known for being an excellent website builder, but it isn't limited to online stores. It also provides point of sale solutions for making in-person sales, as well as several business tools for tracking sales and managing finances.
Shopify's biggest selling factor may be its ease-of-use. Anyone from small store owners to big-name celebrities can use Shopify to sell products online. It's easy to get started, easy to scale, and equally effective for small and high-volume businesses.
How Magento Works
Magento is an open-source e-commerce platform that you run on your own server or hosting provider.
Magento may serve the same purpose as Shopify, but it's completely different in how it gets the job done. It's similar to WordPress in that it allows users to download and customize the entire software to meet their needs.
Unlike Shopify, which includes all the necessary features to start selling out-of-the-box, Magento needs some customization to get started. You will also need to purchase web hosting plan with SSL security and a domain name separately.
Setting up web hosting is fairly straightforward, even for inexperienced users. But unless you know how to code, you might have trouble getting the most out of Magento's powerful capabilities.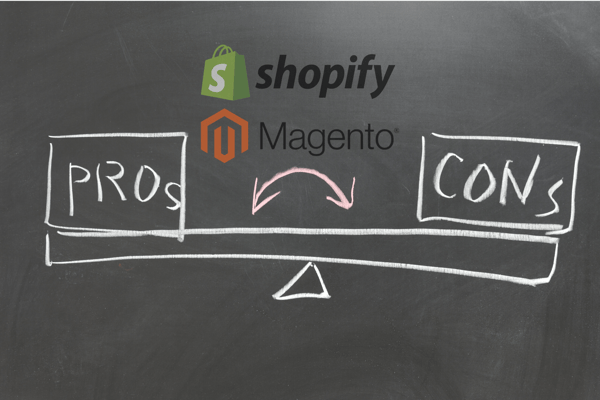 Pros and Cons of Shopify
Before we delve into our extensive comparison, let's compare the pros and cons of Shopify vs. Magento. This should give you a basic idea of what to expect.
Shopify Pros:
Multi-channel selling: Sell your products on Amazon, eBay, and even Facebook
Mobile responsive themes: Dozens of beautiful, high-quality store themes, including several free ones
Extensive app store: An enormous library of apps, or plugins, which expand the functionality of your store
Shopify Cons:
Transaction fees: Shopify is the only e-commerce platform that enforces transaction fees, unless you use its own Shopify Payments portal
High cost of apps: A main selling point can also be a drawback, as it's easy to over-spend on unnecessary app purchases
Although there are plenty of ways to accidentally over-spend with Shopify, you can see now why it's such a strong platform for e-commerce beginners.
Pros and Cons of Magento
Magento also has several benefits and disadvantages you should be aware of. This will help you quickly see how it differs from Shopify.
Magento Pros:
Large and vibrant community: Not unusual for open-source platforms, the Magento user-base is large and eager to help one another through its forum
Incredible flexibility: As long as you know how to code, the options for customizing the design and function of your store are virtually limitless
Ideal for larger businesses: As an advanced platform, Magento is ideal for medium- to large-sized businesses, ideally with their own web development teams
Magento Cons:
Hard for beginners: You must have experience with web development and coding to get the most out of the platform
Difficult to install: Unlike WordPress, which is supported by all major web hosts, there are fewer hosting providers that support Magento
Inappropriate for most small businesses: Once again, what would be a pro for big business users is a con for smaller businesses, largely thanks to Magento's steep learning curve
If you're a solo entrepreneur or small business owner, this might be all you need to know to choose between Spotify and Magento. But if not, keep reading for a more in-depth comparison between the two platforms.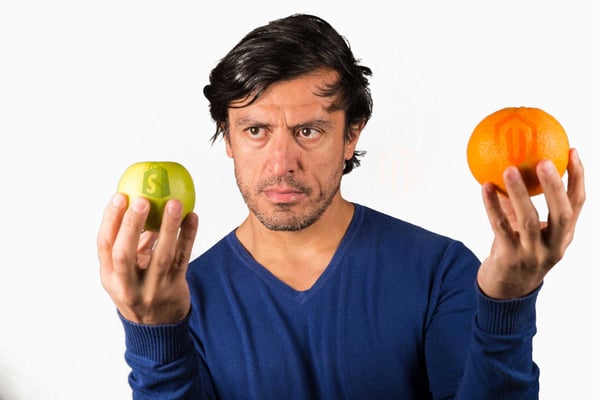 Comparing Shopify and Magento
At this point it goes without saying that Magento is much harder to use than Shopify. If you're not very technical, Shopify is going to be your best choice.
But for more serious users, there are many other factors which could go into choosing between Shopify and Magento. The ones we will focus on include:
Themes
Sales Tools
Marketing Features
Apps and Plugins
Payment Processors and Fees
Support
Pricing
To start out, let's compare the differences between the two platforms' website builders.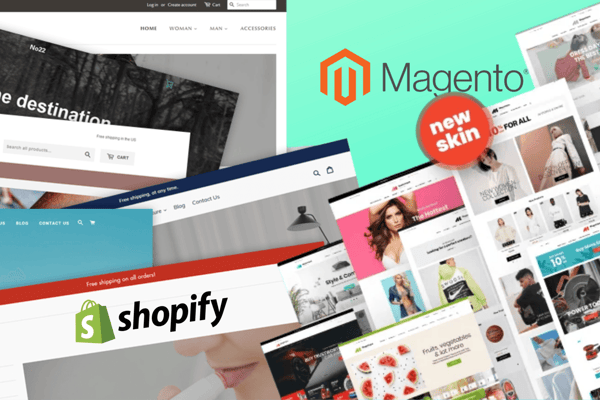 Themes
Shopify has a larger library of available themes than Magento, and their premium themes are also priced lower. However, Magento's custom themes could be better for large businesses with big budgets.
Shopify's themes are beautifully designed and mobile responsive. A handful of these are free, and premium themes cost up to $180.
Shopify's standout feature is its easy-to-use website builder. All Shopify themes provide a wide range of customizability. And with third-party apps or a little simple coding, you can customize them almost infinitely.
Magento also offers themes that don't require any customization, which is convenient when you need to set up a professional-looking store quickly. However, others will require the services of a professional developer to set up.
As with Shopify, you can find free Magento themes to use. But for a ready-made theme, you should expect to spend at least $100. Meanwhile, custom themes may cost anywhere from $600 to $25,000.
Sales Tools
When it comes to sales tools, Shopify has a wider and more impressive range of features than Magento. And, once again, Magento requires some serious customization to make it meet your needs.
Some of Shopify's standout sales tools include:
Abandoned cart saver: Automatically send an email notification to visitors who added products to their cart without completing the checkout process
Digital product sales: Easily sell downloadable ebooks, courses, or software products in addition to physical merchandise
Multi-channel selling: Sell products directly through Amazon, Pinterest, Facebook, and more
Magento has some impressive sales tools as well, including:
Extensive checkout customization: Create a fully customized checkout experience tailored around your customers
Set percentage and fixed-price discounts: Easily offer different types of discounts on various products
Abandoned cart saver
Multi-channel selling
Again, you should expect Magento to require more hands-on work to make it meet your requirements.
Marketing Features
Shopify is basically an all-in-one solution to e-commerce, and its impressive array of marketing features demonstrate that. Although its features might be too limited and simple for a large company, for small businesses they should be just right.
Unsurprisingly, Magento doesn't bring as much to the table. Instead of built-in solutions, it relies heavily on its community-powered marketplace for its marketing features. This means you'll need to install third-party extensions for many processes that Shopify can do out of the box.
Shopify offers tools and integrations for email marketing, social media marketing, Google analytics, and even advertising through platforms like Facebook, Google, and Pinterest. It also provides capabilities to add a blog onto your store, which can great for search engine optimization if fully utilized.
As with most other Magento features, you will need a dedicated web developer to get the most out of its marketing capabilities. But with enough investment, it can certainly become part of a powerful marketing strategy.
Apps and Extensions
Every online store can benefit from third-party plugins to expand its functionality. The apps, extensions, and add-ons for Shopify and Magento can dramatically increase the effectiveness of your site.
On either platform, you can find free and paid apps for integrating third-party software, automating dropshipping orders, and fine-tuning the design of your store.
In terms of app quantity, Magento actually comes out on top this time: their marketplace offers around 5,000 different extensions. This is compared to just around 1,200 apps in Shopify's app store.
However, that doesn't mean Magento quite wins this category. Although more extensions are available for Magento than Shopify, Shopify's apps tend to be more polished and user-friendly.
As with most things on the platform, you will need coding knowledge to install Magento extensions. And while paid Shopify apps are usually quite affordable, some Magento apps can be very costly.
Payment Processors and Fees
When it comes to payment processor options and transaction fees, Magento has the better deal. This makes sense, because while Shopify is a large business intent on earning money, Magento is open-source and community-focused.
Shopify supports more than 100 different payment gateways, including PayPal. But when you use one of these payment gateways in a transaction, Shopify imposes its own transaction fee.
However, when you use Shopify's own Shopify Payments gateway, it doesn't impose any fees. This may seem like a win, but remember that many customers are more comfortable paying with PayPal or Apple Pay. Forcing them to use Shopify's own gateway instead might cost you a sale now and then.
Meanwhile, Magento offers support for over 150 payment gateways, with no transaction fees of their own.
Support
Surprisingly, open-source Magento provides better technical support than Shopify.
This isn't just because of Magento itself, however. Since the platform is aimed at enterprise users, its community is made up of very talented and surprisingly helpful people. The crowd-sourced knowledge base they've created means you can easily find the answer to just about any question you have.
However, that assumes you know the right questions to ask. Although Magento's resources are excellent, they're still aimed at professional developers. For the average computer user, much of the material would go over your head.
Thankfully, Shopify also excels in their support department. They have support representatives on call 24/7, and they tend to be quite knowledgeable and helpful.
In all, Shopify's support solutions include:
Phone support
Social media support
Live chat support
Email support
Detailed and easy-to-understand help center
Video tutorials and courses
Community forum
Advanced specialist support
As you can imagine, having all of these support channels available at all times can really help a business owner out.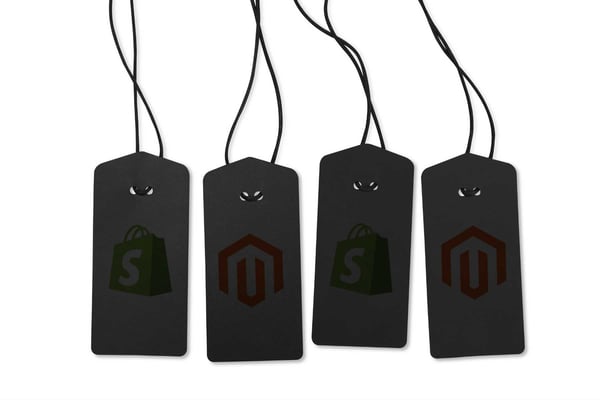 Pricing
This is one rare category where Shopify and Magento are tied. Although the two platforms operate using very different pricing models, it can't really be said that either one is better than the other.
However, comparing the two in terms of pricing can be difficult. This is because, while Shopify is a full service company, Magento is just an open-source software product.
Shopify can cost anywhere from $9 to thousands of dollars per month, and it includes web hosting, security, and data management. By itself, Magento is free, but you have to use a separate web hosting service to set it up.
You must also consider the setup costs involved in creating a Magento store. While anyone can build a website with Shopify, you'll need a professional web developer to use Magento. You might also have to buy expensive themes or extensions from Magento's marketplace.
For reference, Shopify's user-friendly, comprehensive services are available at four main price points:
Shopify Lite: $9 per month
Basic Shopify: $29 per month
Shopify: $79 per month
Advanced Shopify: $299
Shopify Plus: Varies; for enterprise customers only
With these options, there's a plan for every size of business.
Moving Forward With Shopify or Magento
By now you should have a clear idea of how Shopify and Magento compare. As you make your decision between Shopify vs. Magento, let these points be your guide, and you should end up with an online store to be proud of.
Like we mentioned at the start of this article, the difference between business success and failure often comes down to preparation. And while choosing your e-commerce platform is an important part, it's just the first step. Your store's branding, marketing, and content strategy will all play critical roles in ensuring your success.
To get the marketing support your business deserves, visit our services page and see what BlueTuskr can do for you.