Shopify vs. BigCommerce: Which Is Best for Your E-commerce Business? - Updated 2023
Do you know that Amazon, the largest online store in the U.S., turns 27 years old in 2021? Although the 'everything store' has become an integral part of our lives, it's still hard to believe e-commerce has been a lucrative industry for so long.
Yet according to Nasdaq, e-commerce sellers are thought to have significant room for growth. Promisingly, much of this growth is happening outside of mega-corporations like Amazon. Little mom-and-pop shops are turning up online in the form of Shopify and BigCommerce stores.
But when you're comparing Shopify vs. BigCommerce for selling your products, the question is: which is the ideal platform for your e-commerce business?
Although the two platforms share significant similarities, they also have notable differences. And it's not always easy to compare features and make a decision on your own.
To help you decide which platform presents the best solutions for your business, this article will go in-depth to compare the two. By the end of this comparison, you should have a clear idea of what the two companies offer.
From marketing to inventory, to discover which e-commerce platform is right for you, keep reading.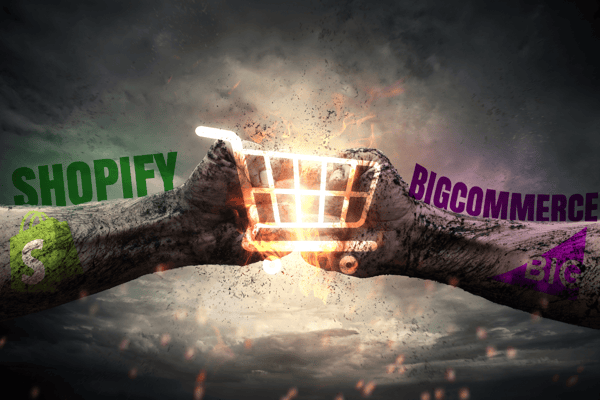 Shopify vs. BigCommerce: What Do They Do?
Shopify and BigCommerce are SaaS (Software as a Service) companies. They give businesses the necessary infrastructure to sell products online and in-person. They may be best known as website builders, but their extensive suites of convenient business tools are even more impressive.
In this article, we're going to compare the website builders and other business features offered by Shopify and BigCommerce. The critical areas we're going to focus on include:
Website design
Business features
Pricing options
Customer support
Keep reading to learn how Shopify and BigCommerce compare.
Website Design
There's much more to Shopify and BigCommerce than website builders. But for most business owners, the design and layout of their online store will be paramount. How a store looks can often be the deciding factor in whether a visitor feels comfortable placing an order or not.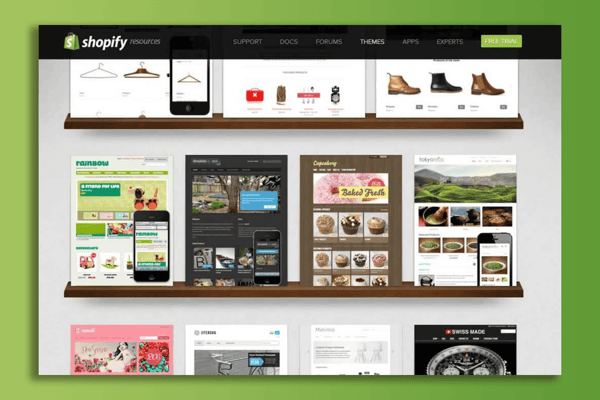 Shopify's Website Builder
When it comes to web design, Shopify goes the extra mile to offer a great user experience—to both you and your customers. They utilize independent web designers to create their templates and themes. This means you have a wide range of theme options to choose from, as well as several design options included within each theme.
This focus on improved design and enhanced customizability can come at a price, however. Although some Shopify themes are free, others are paid. Premium themes can cost anywhere from $80 to $180. However, it's worth noting that this is a fraction of what you would likely pay an independent web designer.
The upside of having so many customizability options is that you can design your website experience around your brand and customers. With careful thought and planning, this can result in lower bounce rates and higher conversion rates.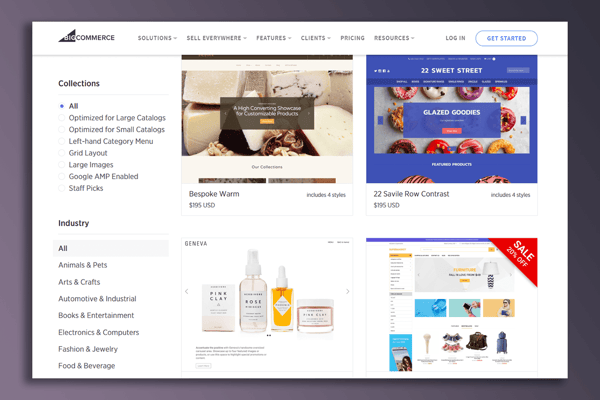 BigCommerce's Website Builder
Although Shopify and BigCommerce have very similar feature sets in most categories, they differ considerably in terms of their design features.
BigCommerce offers more than 100 free themes to choose from, and most are perfectly decent. However, some users feel that BigCommerce themes aren't as varied or feature-rich as Shopify's free themes are.
Additionally, BigCommerce's pricing range for premium themes is considerably higher than Shopify's: from around $120 to $250.
One thing BigCommerce does currently have over Shopify is that their templates are easier to edit. With some persistence, their drag-and-drop interface may provide a more tailored layout than Shopify usually can.
Business Features
There's a lot more to running an online store than simply having a website. From managing inventory to calculating taxes, there's a lot you have to do as a store owner. The more help you can get with these tasks, the better. Fortunately, both Shopify and BigCommerce provide several back-end features to help business go smoother.
Shopify Business Features
From automatically applying local tax to orders to POS solutions, Shopify takes running a store seriously. Some of their most significant features included with most plans are:
Inventory management and sales reporting system
Built-in blog and email marketing

software
No sales limits on any plan
Abandoned cart saver included with entry-level plan
No transaction fees for purchases made using Shopify Payments (.5-2% fee for transactions using external payment gateways like PayPal)
Credit card fees ranging from 2.4% to 2.9% (1.5-2.2% in the UK or Europe)
Carrier shipping quotes (from partner carriers only with Shopify Shipping)
Extensive selection of third-party apps and themes
Standard plan starting at $29 per month with a 14-day free trial
10% discount when you pay for one year of service up-front; 20% discount for two years
Shopify Lite option for just $9 per month that allows you to sell through Facebook, an existing website, or a POS system
These features make it easy to manage all aspects of your business, not just your store.
BigCommerce Business Features
While Shopify tends to beat BigCommerce where design is concerned, BigCommerce has a more competitive feature set. Some of these include:
Professional sales reporting functionality
Built-in blog
Product ratings and review system built-in
Integrated webpage builder
Automatic currency converter
Carrier shipping quotes from third-party carriers
Highly customizable abandoned cart saver (mid-tier plan only)
No transaction fees on all plans
Credit card fees ranging from 2.2% to 2.9% with PayPal (1.55-1.85% in the UK or Europe)
Sales limits on all plans, starting at $50,000 per year on the Standard plan
Limited selection of third-party apps and themes
Basic plan starting at $29.95 per month with a 15-day free trial
10% discount when you pay for a year of service up-front (Plus and Pro plans only)
Like Shopify, users at all experience levels should have an easy time running their business with BigCommerce.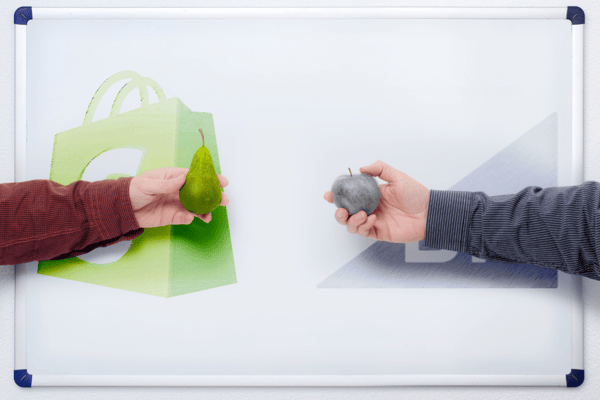 Comparing Shopify vs. BigCommerce
BigCommerce beats Shopify on a couple of features here, but not by much. First of all, they offer a way for customers to leave product reviews that are integrated into their website builder. On Shopify, you must install an external app on your site for reviews (although the app is free).
Second, as already mentioned, BigCommerce has a more elaborate page builder built-in than Shopify does. For advanced layout customization in Shopify, you will need to invest in another external app.
Finally, BigCommerce automatically changes the currency based on where your visitors are located. In Shopify, you will need an external app to do this automatically. However, a couple of their themes do include an integrated currency converter which users can set for themselves.
It's also worth noting that Shopify doesn't impose a sales limit at any tier, while BigCommerce does.
Shopify has a few other advantages over BigCommerce. For one thing, they offer an abandoned cart saver on all plans. This feature sends automatic notifications to website visitors who leave without placing their order. In BigCommerce, this feature is only available on their higher-priced plans. However, the BigCommerce cart saver offers more customization options than Shopify's cart saver does.
Finally, if you only need very basic business features, Shopify Lite lets you sell your products for just $9 per month. This doesn't come with an online store, however. All you get is a "buy" button to put on your Facebook page or an existing site, and an optional POS system to make sales in-person.
Getting Additional Features for Your Store With Apps
As you should have picked up by now, both Shopify and BigCommerce have app stores with third-party apps. These apps expand the functionality of your store. This allows you to add features and capabilities to your site that otherwise wouldn't be available.
Shopify's app store has an enormous selection of apps to choose from, many of them free. These allow you to customize your store in just about every way imaginable, from translating webpage content to accepting cryptocurrencies.
BigCommerce has an app store of its own, but its library of third-party apps is much smaller than Shopify's. As a result, you may find it more difficult to customize your store exactly to your liking.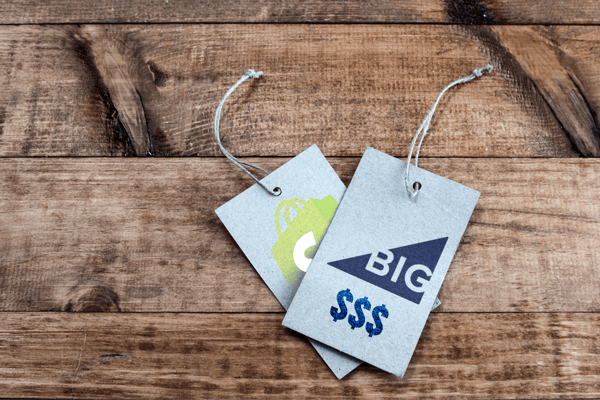 Pricing Options
Pricing is probably the first thing most business owners think about. However, it's not the most important consideration. It's far better to spend a little extra to get a solid, well-designed store. That doesn't mean you need to break the bank, as both Shopify and BigCommerce offer reasonable entry-level prices.
Shopify Pricing
Shopify offers multiple e-commerce plans to meet the needs of any store owner. These options include:
Lite ($9 per month)
Point of sale app and card reader to let you sell your products in-person (for farmers' markets, trade shows, or pop-up stores)
Unlimited device compatibility
Place a Buy Button on your existing website, blog, or Facebook page
Track your sales and profits using the overview dashboard and finances report
Credit card rate of 2.7%
Unlimited product catalog
Starter ($14 per month)
Create your online store with Shopify's website builder
List up to 25 products on your store
Unlimited bandwidth and 1 GB of storage
No transaction fees when you use Shopify Payments
Chat and email support
Basic ($29 per month)
All Starter features
Access to POS app and card reader for in-person sales
Unlimited online product catalog
Abandoned cart saver
Credit card rates of 2.9% plus 30 cents per online transaction (2.7% per POS transaction)
Discount code engine
Fraud analysis tools
24/7 support
Professional ($79 per month)
All Basic features
Professional reports
Abandoned cart recovery
Credit card rates of 2.5% plus 30 cents per online transaction (2.4% per POS transaction)
Create and accept gift cards
Unlimited ($179 per month)
All Professional features
Advanced report builder
Real-time carrier shipping with Shopify Shipping partners
Credit card rates of 2.25% plus 30 cents per online transaction (2.15% per POS transaction)
It's easy to see why so many people, from small-time crafters to celebrities, use Shopify to sell their products. No matter what kind of business owner you are, there's bound to be a Shopify plan that fits your needs.
BigCommerce Pricing
With only three pricing options to choose from, BigCommerce may not be quite as flexible or customizable for small-time users. But it still offers impressive feature sets to more serious sellers:
Silver ($29.95 per month)
Create your own store with BigCommerce's website builder
3 GB of storage
20,000/hour API calls
1.5% transaction fee on all sales
One-on-one assistance with store setup for an additional $300
Data migration services for an additional $325
Gold ($79.95 per month)
All Silver features
Unlimited Storage
No transaction fees
Loyalty marketing tools
Abandoned cart saver
Integration with other websites, including eBay and Google, to sell your products in more places
Platinum ($199.95 per month)
All Gold features
60,000/hour API calls
Free one-on-one assistance and data migration
Google Trusted Store data feed automation
Whether you choose Shopify or BigCommerce will depend on which features you need and which ones you're willing to do without. This pricing breakdown might be all you need to confidently make your decision.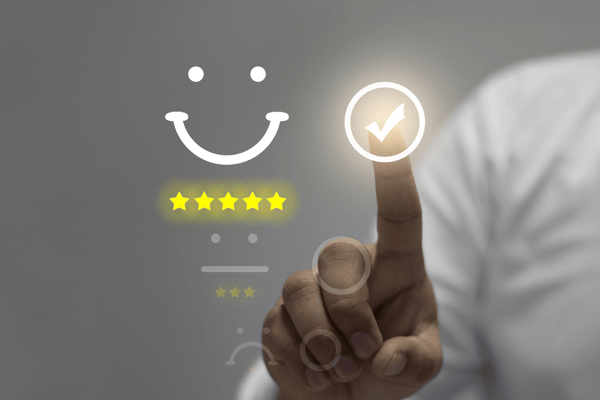 Customer Support
You may be a professional store owner, but that doesn't rule out the need for quality tech support. For the final section in our comparison guide, we'll cover the strengths and weaknesses of each company's support department.
Shopify Support
Shopify is highly respected in the industry for providing excellent support to its users. They also offer a variety of ways to get in touch with them, including over the phone, through email, or via instant messaging.
Best of all, Shopify offers support 24 hours per day, seven days per week. Their team seems to be helpful with answering technical questions, and they usually have a fairly speedy response time.
Perhaps even more impressive than their support department is their training library. Shopify offers an entire catalog of detailed blog articles and full-length courses. This is highly valuable for first-time store owners.
BigCommerce Support
BigCommerce also excels at customer service. Like Shopify, they provide support 24/7 via phone, email, and instant messaging.
Although BigCommerce is probably equal to Shopify in terms of tech support, their training library is slightly less exciting. Still, their training platform (called BigCommerce University) can help you make the most of your experience as a store owner. It might not be as simple or detailed as new users would prefer, however.
Shopify vs. BigCommerce: Making Your Choice
For most business owners, there's no obvious way to choose between Shopify vs. BigCommerce. Both offer many of the same services at similar price points. And while there are differences between them, it's difficult to say which one actually comes out on top.
Both Shopify and BigCommerce are solid options for e-commerce sellers. Before choosing one for selling your products online, you should consider using the free trial offers from both services.
To get help with your online store branding, marketing, or content strategy, visit our services page and see how BlueTuskr can empower your business.