Being hands-on in selling on Amazon is not always possible or practical for every owner. If you have a large business or are selling a high volume of products, it may be necessary to hire a team to help manage your Amazon sales.
However, in the early stages of your business, being hands-on can help you gain a better understanding of the platform, optimize your listings, and provide excellent customer service to your Amazon customers.
One of the Basics that you need to know is adding a product listing. And on this tutorial, we will walk you through how to do that.
Create An Amazon Product Listing
Navigate To Add A Products Page
Let's start by logging in to Amazon Seller Central. That's sellercentral.amazon.com. Click the Login Button on top and enter your Email or Your Phone Number, and the Password of your Amazon seller account. Then click the Sign In button.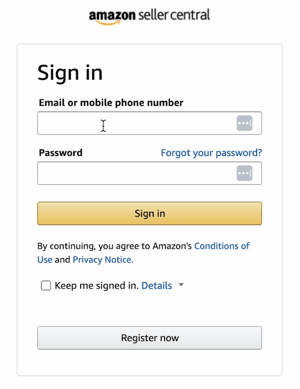 The first thing that we need to do is to add a product. Click the Menu Icon located on the top-left of the page. On the drop-down, hover your mouse over the Catalog and select Add Products.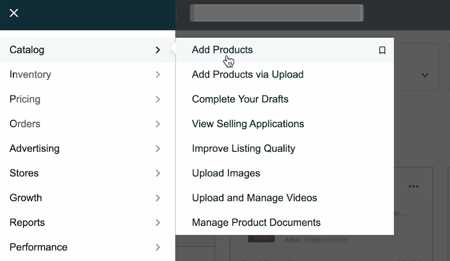 Select a Category
The Next thing that we need to do is to select a category. What we need to do is to select "I'm adding a product not sold on Amazon" since in this example, we are doing a whole new product.

Search for the category of your product in the search field and select the best result.
For this example, I'm doing a Shirt. So I'll search for my category and I'll select the ones that suit best for my category.
Adding A Product
Product Identity
The First Part is going to be the Product Identity. Select if the product has a variation or not. Add the Item Name and the Brand Name.
Add the External Product ID, then click the Continue button at the lower right.
As you can see that tabs have Red prompts. This meant that there are required fields on that tab that needs to be filled. Let's go through them one by one.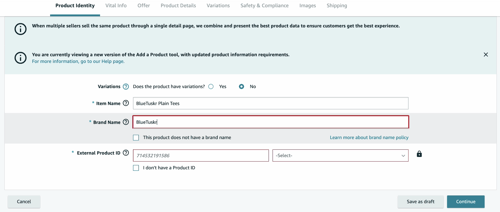 Vital Information
The vital Information Tab is where you can indicate the basic description. Fill in all of the fields. Provide a text description of the product. Add a brief descriptive text on the bullet point and click the Add More link if you have more to add. You'll see this information directly under or next to your product photo.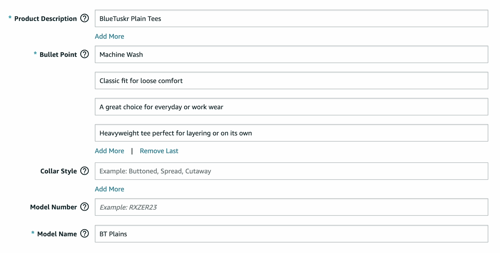 Since this is a shirt, you can specify the collar style. Indicate the Model Number if there is any and add the Model Name for this is a required field.
Offer
Offer is where you'll be setting the price information of your product and the condition of your product.
Set the quantity that you have on hand that you'll be selling. Set the price of your item and the offering condition type.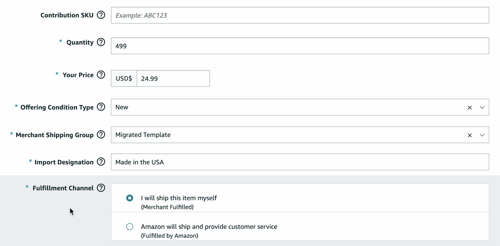 Specify the import designation and choose who's going to fulfill the item. If you'd want Amazon to fulfill the shipping, then you would need to send your inventory to Amazon.
Product Details
This is where you can specify additional details for your product. This is for your customers to find your product better.
Since what we have are shirts, then we will be specifying details that are related to clothing apparel.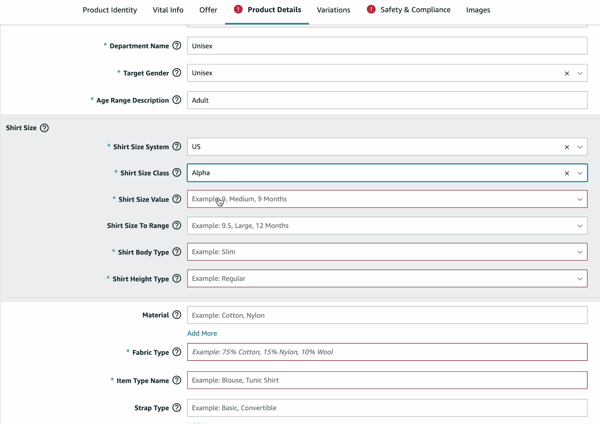 In this example, we will be filling out all of the required fields.
So we have Style, Department Name, Target Gender, Age Range Description, Fabric Type, Item Name Type, Fit Type, and Care Instructions.
Make sure that you place the correct information so that your customers can easily find your listing.
There is an option where the buyer can filter out the results. The product details that you specify in this tab will ensure that you're getting the correct customers.
To make their purchasing selections, buyers rely on vendors. Product Detail pages contain data that is provided by both Amazon and merchants.
Safety And Compliance
This is where you will be specifying the country. Please fill in all of the fields and specify if there is a dangerous substance in the item that you're selling. Make sure that you specify all of the items that may trigger allergies in your customers.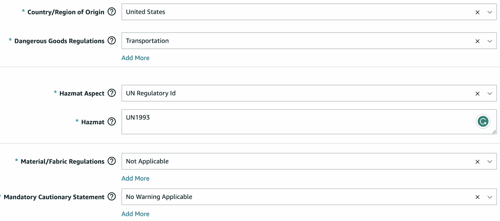 Image Tab
The last one is the Images. Add all of the relevant images to your listing. Click the Upload Image then look and select the image that you'll be uploading.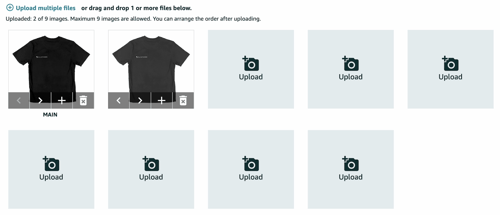 Everything should be all set if there are no other red prompts. Click the "Save and Finish" button right below to submit the listing for Amazon Approval.
It may take 24-48 hours for Amazon will approve the listing. You should see a green callout confirming that the listing has been submitted. It should be on Amazon once it's approved and you can then have the sales coming in.
Final Thoughts
A well-crafted product listing with accurate information, high-quality images, and a competitive price can help improve your sales and increase your revenue.
It's important to regularly monitor and update your product listing to ensure that it is up-to-date and accurately represents your product.
That's it! That's how you create an Amazon Product Listing in Seller Central.
See you at our next tutorial.
Create an Amazon Product Listing Summary
1. Log in to Amazon Seller Central
2. Navigate to Add a Product Page
3. Select a Category
4. Fill in all of the Required Fields
5. Review the Details
6. Save And Finish (Submit the Listing to Amazon for Approval)
Watch The Full Video Here: