12 Top Chrome Extensions for Amazon Sellers - Updated 2023
With about 69 percent market share, Google Chrome is the most popular browser on the planet. That means most Amazon sellers probably use it, at least on occasion.
While Chrome is great as a browser, many Amazon sellers don't realize that it can be an even more powerful tool. By adding the right Amazon seller Chrome extensions, you can augment the browser's capabilities in ways designed to help you connect with customers and boost revenue.
The trick is you have to choose the best extensions for the job. Google has very strict rules about extensions, including requiring each one of focus on just a single purpose. That means you want to be diligent about the ones you pick, ensuring you'll get genuine value from the addition.
If you want to make sure you're adding the most capable Amazon seller Chrome extensions, here's everything you need to know.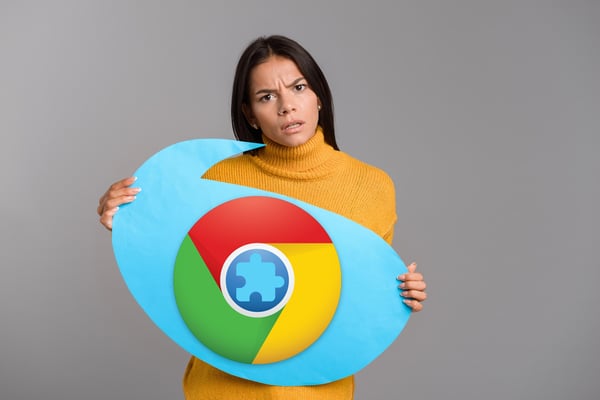 What Is a Google Chrome Extension?
Before exploring which options are the best Chrome extensions for Amazon sellers, it's a good idea to take a look at what extensions are and what they can do. In the simplest terms, an extension is a piece of highly specialized software that's meant to customize or adjust the user's browsing experience.
Typically, an extension will add a new function, alter an existing one, or block a particular type of activity. For example, ad-blocking extensions prevent ads from displaying when you visit a webpage.
Overall, there are over 188,000 extensions available. Each one serves a specific, highly niche purpose, allowing you to make a small, but dramatic, change to your browsing experience.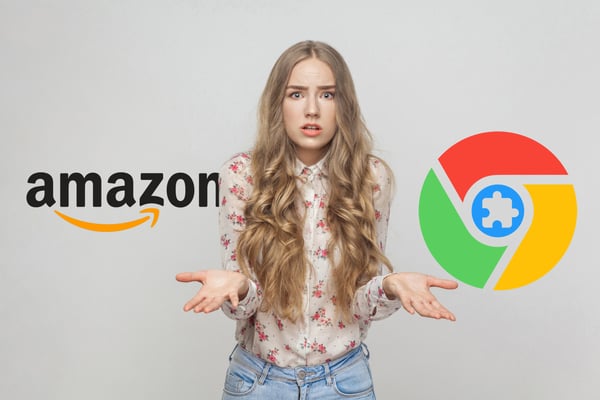 Why Use Amazon Seller Chrome Extensions
As an Amazon seller, you have to take advantage of every opportunity to boost sales and stay ahead of the competition. Usually, sellers focus on traditional options. For example, you might launch a Lightning Deal, leverage social media, and make use ofe-commerce automated emails.
However, many sellers overlook a critical opportunity. By optimizing your browser with the best extensions for Amazon sellers available, you can reach new heights.
With Amazon seller Chrome extensions, you have the ability to adjust your browser based on your needs as an Amazon seller. By choosing the right option, you can assess the profitability of products, identify keywords to boost your listing's visibility, analyze the performance of your competitors, and more.
Precisely which ones will provide you with the most value may vary. Every Amazon seller's needs and priorities are different, so some Chrome extensions may be better for you than others.
However, by exploring the top Amazon seller Chrome extensions, you can get a solid idea of what's available. Then, you can either add the ones that will best boost your business or use the information as a starting point for additional research.
12 Top Amazon Seller Chrome Extensions

1. Keepa
With Keepa, you get access to in-depth price history charts for more than one billion products listed across the various Amazon sites. Its database is updated regularly, and you can even set up price drop alerts to notify you of changes.
This is a great tool for keeping your price points competitive. With a few clicks, you can see exactly what similar items have gone for over time, a powerful insight that can make staying ahead of the competition easier.

2. The Camelizer
Once known as CamelCamelCamel, The Camelizer is similar to Keepa. It allows you to review price history data for products sold on Amazon. With a quick click, you can see price graphs on Amazon product pages. Plus, it has custom alert capabilities, ensuring you're never caught off-guard by price changes.

3. FBA Calculator
If you want to simplify your math dramatically, FBA Calculator is a great choice. The Chrome extension for Amazon sellers lets you calculate FBA fees, sales revenues, sales fees, and much more, all with a few simple clicks.
You don't even have to leave the product page to take care of it all. It's exceptionally simple and ridiculously convenient.

4. AMZBase
Even if you're selling on Amazon, that doesn't mean you don't have competitors on other sites. If you want to make product research easier,AMZBase if an ideal tool. This Chrome extension can compare listing information to a range of online marketplaces, including eBay.
It also has several other features. There's a built-in ASIN number display, FBA calculator, and product sourcing details all wrapped into this valuable Chrome extension.

5. Amazon FBA Keyword Tool
Amazon doesn't use the same algorithms as search engines like Google. As a result, keyword research can be a bit challenging. But, if you have Amazon FBA Keyword Tool by your side, it's a whole lot easier to manage.
With this Amazon seller extension, you can get keyword information that's specifically relevant to the Amazon platform. Along with suggestions, you can find out how competitive certain keywords are, allowing you to make better choices to drive traffic to your listings.

6. Jungle Scout
Jungle Scout has been popular with Amazon sellers for ages. When it comes to Amazon sales estimators, it's pretty hard to beat. You also get access to a ton of helpful data, including revenue reports, keyword analysis, inventory management details, and more.
Now, Jungle Scout does come with a price tag. However, they do offer a 14-day money-back guarantee. You can always give it a try to see if you get the right amount of value before you completely commit.

7. Amazeowl
If you're trying to get started as an Amazon dropshipper or otherwise need to find and launch your first-ever Amazon product, Amazeowl is a great tool to have in your arsenal. It can help you search for amazing product ideas, identify the best opportunities, and position yourself to stay ahead of your soon-to-be competitors.

8. Helium 10
If you're looking for a Chrome extension that can help you with sales estimations, Helium 10 is worth checking out. Plus, it can assist with competitor analysis, product research, and keyword selection.
The interface is incredibly user-friendly, making it easy to get started with regardless of whether you're tech-savvy. It's great for snagging ASIN data, completely revenue estimates, identifying keyword trends, and much more.

9. AMZScout Pro
When it comes to speeding up product research, AMZScout Pro is a great solution. You can type in product ideas, and the extension gets to work, returning ratings, creating profit estimates, forecasting demand, and analyzing the degree of competition you may face. There are even tools that let you dig into your competitors, including viewing seller rankings, inventory level estimates, and more.
While AMZScout Pro is a paid option, you can try it out for free for a month. Even after that, the value it brings to the table makes it fairly affordable, given what it can potentially do for your business.

10. META SEO Inspector
If you want to improve your listing's SEO, META SEO Inspector might be the tool for you. After going to an Amazon product page, you can click the button and get a ton of insights. It'll let you know if your descriptions or titles are the right lengths and which keywords are represented, creating opportunities to optimize your content.
Plus, you can use the tool to dig into your competitors' listings. If you want to see why some are outperforming you, it's a great place to start.

11. MozBar
WithMozBar, you can take advantage of the creator's marketing expertise to hone your Amazon business. The extension allows you to figure out how many links exist that head to a particular Amazon page.
Not only can you see who is linking to your products, but you can also see who is linking to your competitors. This can help you figure out whether you may want to reach out to a site for a link, allowing you to spread the word about your products.

12. Extensity
As you start adding Chrome extension for Amazon sellers to your browser, it's easy to become overwhelmed. With Extensity, you don't have to be. This extension helps you manage your other Chrome extensions, allowing you to turn them on and off depending on whether you're doing your thing as an Amazon seller or browsing like a normal person.
After all, being able to disconnect from your work is important. With Extensity, it's much simpler to pull that off.