How to Create a Percentage Off Promotion in Shopify - 2023
Are you looking to boost your sales on Shopify? One effective strategy is to launch a percentage-off promotion. This approach can not only attract new customers but also reward your loyal ones, which can subsequently increase your store's visibility and profitability.

Before diving into the steps to set up this promotion, let's share some tips for success. First, keep your target market in mind when choosing the percentage-off. A discount that's too small might not motivate purchases, while one that's too large may hurt your profits. Secondly, consider the timing of your promotion - special occasions, holidays, or season changes can be excellent opportunities for a sale. Lastly, promote your sale extensively through email newsletters, social media, and your Shopify store's homepage to ensure maximum reach.
Launch a Percentage Off Promotion on Shopify
Now, let's get into the details of setting up a "percentage off" promotion on your Shopify online store.
Navigate to the Discounts Section
Log into your Shopify admin panel. Go to www.shopify.com and enter your credentials.
Click on "Discounts" in the left-hand menu. This will take you to the Discounts page.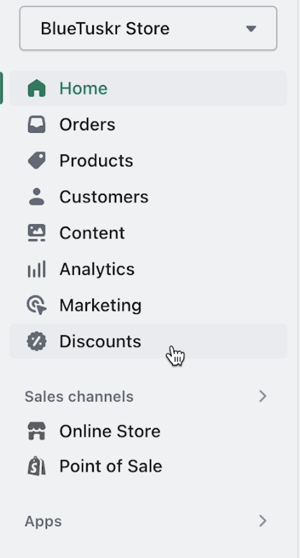 Create a New Discount
Click on "Create discount". A new page will open, presenting different types of discounts you can create. Choose "Amount Off Products".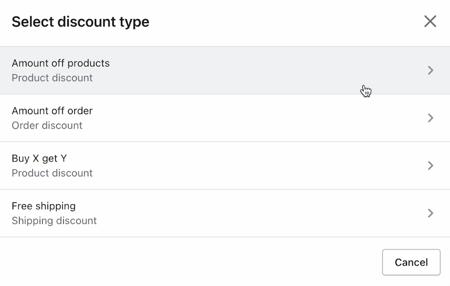 Set the Discount Details
Amount Off Products
Now, you can configure the details of your discount. Fill in the Discount code or choose to generate a random one. In this case, we will have a promotion on Memorial Day.
Value
In the "Value" section, select "Percentage" from the dropdown menu, then set your desired percentage off in the field.
Choose What the Discount Applies To
Under the "Applies to" section, specify whether your discount applies to the entire order, specific collections, or specific products. If you choose specific collections or products, a new box will appear where you can select which ones the discount should apply to.
You can also specify the customers who can avail of this discount.
Set Minimum Requirements (Optional)
Under the "Minimum requirements" section, you can choose whether the customer must spend a minimum amount or buy a minimum quantity of items for the discount to apply.
Set Usage Limits (Optional)
In the "Usage limits" section, you can limit the number of times the discount can be used in total, or restrict it to one use per customer.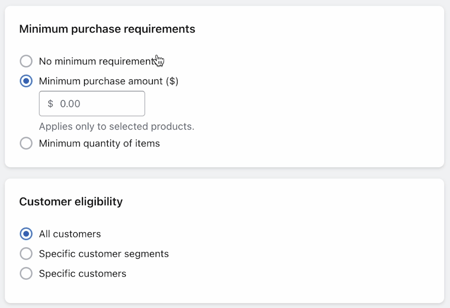 Set the Active Dates
In the "Active dates" section, you can set the start date and end date for your discount. This creates a sense of urgency and can encourage customers to purchase before the discount ends.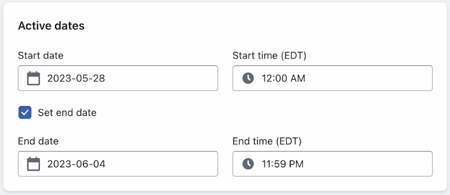 Save the Discount Code
Review the summary of your discount.
Once you've filled in all the details, click on the "Save" button at the top or bottom of the page. Your discount code is now active and ready to be shared with your customers.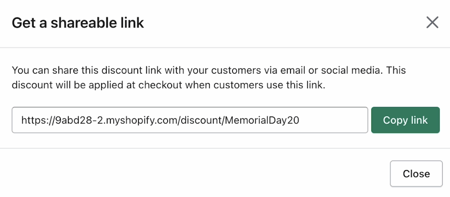 Benefits of Launching a Percentage-Off Promotion
A percentage-off promotion can offer numerous benefits to your Shopify online store:
Attracting New Customers:
Discounts can serve as a powerful incentive for potential customers to make their first purchase from your store.
Increasing Sales Volume:
By reducing prices, you can motivate customers to buy more items, thus increasing your sales volume.
Clearing Out Inventory:
If you have items that are slow-moving or seasonal, a percentage-off promotion can help clear them out.
Boosting Customer Loyalty:
Rewarding your existing customers with discounts can make them feel valued and encourage repeat business.
Conclusion
Creating a percentage-off promotion on Shopify is a straightforward process that can yield significant benefits. By carefully considering your target market and promotion timing, and by promoting your sale effectively, you can boost your online store's visibility, attract new customers, increase sales, and foster customer loyalty. So, don't hesitate! Start planning your first percentage-off promotion on your Shopify store today and watch your business grow.
Summary
1. Access the Dashboard
2. Navigate to Discounts
3. Create a Discount Code
4. Define the Discount
5. Set Active Dates
6. Share the link to any platform
Watch the Full Video Here: