How to Change a Product Title on a Listing in Amazon Seller Central - Updated 2023
Managing a listing on Amazon is something that you need to know. You should know it's in and out. Here's a quick tutorial on how to change a product title or your listings. This same process will also allow you to know how to edit your listings Vital Info may it be a regular listing or an Amazon FBA.

Change a Product Title on Amazon Seller Central
Login to Amazon Seller Central
Let's start by going to Seller Central. Go to sellercentral.amazon.com. Click the Login located on the upper-right of the page and enter your credentials.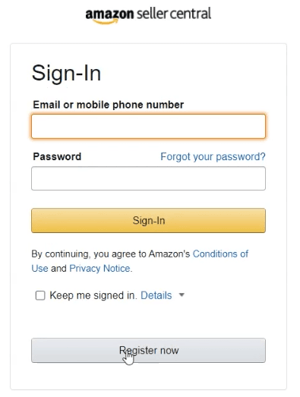 Type in your email address and password and click the Sign-in button.
Access Manage Inventory
Once you're in, hover your mouse to the Inventory on the upper-left and select Manage Inventory on the drop-down.

Look for the listing that you wanted to edit. You can either click the Edit button in-line with the product or if Edit isn't there, just click the drop-down and select Edit.
Edit Your Listing
On the offer tab like what we have here, this is where you can change your product tax code and your product price. You can also start a sale and set a duration.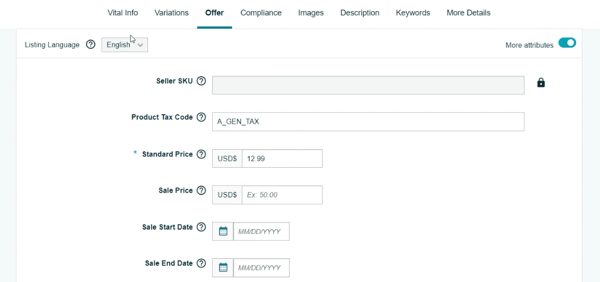 The Variation Tab is where you can edit the variations if you have one.

Vital Info Tab is where you can edit most of this listing's main information such as the Product ID, Product Name, Brand, Description, and many more.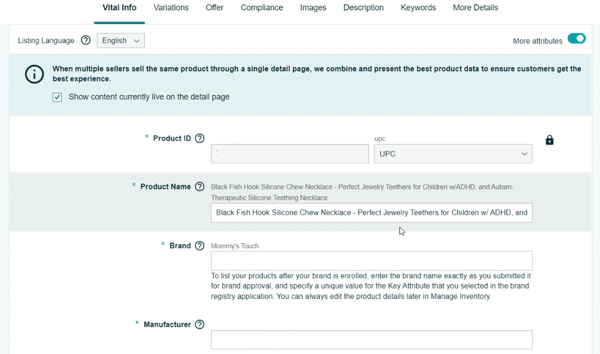 The Product Title is the same as the Product Name. This is what's going to be displayed on the search results. So just edit it as you wish.
Save Your Changes
You can change almost everything but be cautious with the Brand. You need to make sure that you own that brand or you are authorized to sell using that brand.
Please make sure to fill in the required fields if you missed one.
Once you're all set, just scroll down to the bottom and click the Save and Finish button. You should then be prompted that the changes have been submitted and it may take 15 minutes for it to reflect on Amazon.


On the Manage Listing page, you will also see a green callout confirming that you made the changes on an item. It should reflect the changes that you made especially on the title.

Now you're all set. It may take the whole 15 minutes if your listing has a variation or if you made a lot of changes on the listing.
So that's how you change a product title on an active listing on Amazon Seller Central.

Watch the Full Video Here: